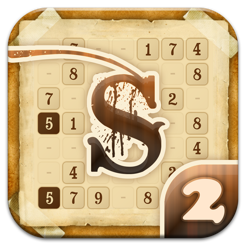 Description
"Sunny Seeds 2" is a very simple, but truly thrilling game. Does it look simple? Just try! You will forget everything else for a few hours! Now more than one million people enjoy the first version of the game (for iOS)!

We are happy to launch the second version of the popular game "Sunny Seeds"! In addition to all the best from the first version the new one includes many new and interesting features.

GOAL: clear the field from all numbers. You should find pairs of identical numbers or with sum equal to 10. The numbers should be placed on the same level horizontally or vertically and between them should not be the other numbers.

There is 4 kind of gameplay: Campaign, Classic, Advanced, Crazy! In different gameplays you get additional specific objects, rules or limitations.

Features of "Classic" gameplay:
- You should find pairs of identical numbers or with sum equal to 10
- The numbers should be placed on the same level horizontally or vertically and between them should not be the other numbers
- The last number in one row is paired with the first number in the next row
- You can add new numbers to make new number pairs. New numbers added to the end of the field. Sequence of new numbers take from current numbers on the fields but without empty cells.
- The further the numbers from each other, the more points you get

Features of "Advanced" gameplay takes everything from "Classic" and additionaly have:
- You can move numbers horizontally
- Turn your iPhone/iPad to get new number pairs
- You can shuffle numbers on the field

Features of "Crazy" gameplay:
- You should find pairs of identical numbers or with sum equal to 10
- The numbers should be placed on the same level horizontally or vertically and between them should not be the other numbers
- You can move numbers horizontally or vertically
- Every second happen scrolling one of four lines of numbers
- Every second happen swap positions of two random numbers on the field
- A new pair is added to the board every 4 seconds.
... so hurry up!

Other features of "Sunny Seeds 2":
- The graphics is improved. Now the game is nicer and faster
- Added new objects: blocks of numbers, scroll-lines, swap-numbers
- Be the first among everyone! Added global ratings in the Game Center for iPhone, iPad and Mac versions of the games
- Added 50+ achievements
- And relax music ;-)

Try "Sunny Seeds 2"!

Video about game: https://www.youtube.com/watch?v=oisRa0x7M1c

Also the game is available for:
- iPhone - https://itunes.apple.com/app/sunny-seeds-2-free/id612497442?mt=8
- iPad - https://itunes.apple.com/app/sunny-seeds-2-hd-free/id620299027?mt=8

Game web-site: http://duksel.com/sunny-seeds-2 (there you can find links for all versions of the game and other Duksel's games & applications)

Like us on Facebook: facebook.com/duksel.sunny.seeds
Any suggestions/recommendations you can send to want2say@duksel.com

PS: every level has solution. If you cannot complete level - try to do this in another way ;-)
- Bugfix with Game Center authorization
Great game
Very entertaining!

UPDATE: August 2014
I have reduced the rating from 5 to 3 stars. The game no longer playable full screen on Mavericks (10.9.4). The play area just disappears and is not visible. The worst part is that the developers have no contact info on their site. So that's a two-star cut.
Information
Seller

Duksel Corp.

Size

15.8 MB

Category

Compatibility

OS X 10.8 or later

Languages

English, Russian, Simplified Chinese

Age Rating

4+

Copyright

© Duksel Corp, 2013

Price

Free
Supports
Game Center

Challenge friends and check leaderboards and achievements.

Family Sharing

With Family Sharing set up, up to six family members can use this app.