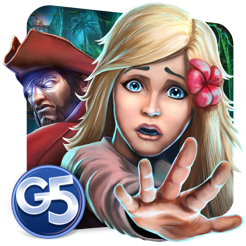 Nightmares from the Deep™: Davy Jones, Collector's Edition
9+
Free
Offers In-App Purchases
Description
Reveal Davy Jones' darkest secrets and defeat the nefarious sea devil once and for all!
Museum curator Sarah Black would never have imagined where her study of Davy Jones' legend would take her. After mentioning his name during a lecture, the infamous ghost pirate's ship suddenly appears on the horizon, and Davy Jones himself breaks into the museum to kidnap Sarah and her daughter. Now, in order to save her mother's life, Sarah's daughter Cory has agreed to a lifelong deal with the sea devil.
Join Sarah in this unbelievable journey to escape the wrath of Davy Jones and rescue Cory. Discover surprising secrets about the otherworldly origins of the pirate's island and awaken strange stone creatures, the guardians of Davy Jones's memories, to delve deeper into the sea devil's past. Is Davy Jones as evil as legend makes him out to be? Or is he himself the sad victim of circumstances? Find out for yourself in this heart-pounding odyssey!

TRY IT FREE, THEN UNLOCK THE FULL ADVENTURE FROM WITHIN THE GAME!

● 68 diverse and majestic locations to explore
● 29 addictive mini-games to master
● 32 achievements to unlock
● 12 mysterious statues to awaken
● Three collections to gather – 12 sea horses, 10 pirate cards and 24 puzzle pieces
● Cool extras such as the concept art and game music
● An additional adventure to reveal the shocking truth about Davy Jones's island
● Game Center Support
____________________________

Game available in: English, French, Italian, German, Spanish, Portuguese, Brazilian Portuguese, Russian, Korean, Chinese, Traditional Chinese, Japanese
____________________________

Sign up now for a weekly round-up of the best from G5 Games! www.g5e.com/e-mail
____________________________

*** G5 Games - New game apps every week ! ***

Collect them all! Search for "g5" in Mac App Store!

Adventure:

▶ The Secret Society® - Hidden Mystery
▶ The Cursed Ship, Collector's Edition
▶ Twin Moons
▶ Nightmares from the Deep: The Siren's Call
▶ Abyss: the Wraiths of Eden

Strategy:

▶ Virtual City Playground®
▶ Stand O'Food® City: Virtual Frenzy
▶ The Island: Castaway® 2
▶ Supermarket Management 2
▶ Virtual City®
____________________________

VISIT US: www.g5e.com
WATCH US: www.youtube.com/g5enter
FIND US: www.facebook.com/g5games
FOLLOW US: www.twitter.com/g5games
G5 End User License Supplemental Terms: http://www.g5e.com/G5_End_User_License_Supplemental_Terms
Ratings and Reviews
Davy Jones…In Deep
The graphics did set the mood and are well done, as are the characters, though you won't immediately understand some of the characters' motivations until it's time for the story to reveal them. The puzzles were hard mostly…neither real hard nor very easy and they did indeed make me think. Some of them required flipping pieces around and exact placement…difficult for me because of arthritis; that was frustrating, which is my only complaint. The hidden object games added a variation on the theme, and the collection items provided more things to look for, and some of the items are hidden indeed, by clever shading and positioning. The plot did twist and turn. For me, the game was worth every penny of its cost. Others will enjoy it also.
Not as good as the other Davy Jones mystery
I went ahead and spent $7 because I got the previous installment (The Siren's Call) and it was great, but this one is definitely a step backwards and I regret spending so much on it. Unlike The Siren's Call, the puzzles are boring and mostly hidden object games instead of the clever puzzles in the last one, and the hidden objects are always just broken pieces of something in backgrounds that all look the same. There's no continuity to the story and the graphics are kind of lame this time. None of the beautiful graphics of the last game in the series. All-in-all, I recommend skipping this one in favor of Siren's Call. This one also had a number of technical issues.

Update: returned to this game a couple of years later on a rainy day, and I feel the same. As it happens, I played Siren's Call first this time too, and it's much better. Skip this one in favor of something with better puzzles and graphics.
Davy Jones is OK
I enjoyed the first two Nightmares from the Deep games so I had to buy this one. Was not disappointed, graphics are great, story kept me interested, nice mix of mini-games and I liked the find & use hidden object games. There are also several groups of hidden things scatted throughout the game so you have to search every scene carefully (I still haven't found all of them). Encountered a couple of programing glitches in the bonus chapter (palm frond & map of north america) but was able to play around them. The game is well worth the money.
Information
Seller

G5 Entertainment AB

Size

886.2 MB

Category

Compatibility

OS X 10.7.4 or later

Languages

English, French, German, Italian, Japanese, Korean, Polish, Portuguese, Russian, Simplified Chinese, Spanish, Traditional Chinese

Age Rating

Rated 9+ for the following:

Infrequent/Mild Cartoon or Fantasy Violence

Infrequent/Mild Horror/Fear Themes

Copyright

© 2015 - 2019 Artifex Mundi Ltd. Published by G5 Entertainment AB. All Rights Reserved.

Price

Free
Supports
Game Center

Challenge friends and check leaderboards and achievements.

Family Sharing

With Family Sharing set up, up to six family members can use this app.