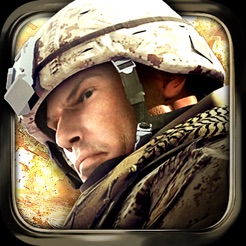 Modern Combat 2: Black Pegasus
17+
$6.99
Offers In-App Purchases
Description
Modern Combat 3: Fallen Nation is coming this fall! Watch the exclusive trailer on YouTube : http://bit.ly/oV9zvX

Check out the new update below!

Finish what you started.

In Modern Combat 2: Black Pegasus, complete the mission unveiled in the first opus of one of the most acclaimed FPS games on the iPhone, this time on fronts all over the globe.

"Modern Combat 2: Black Pegasus looks like a big step forward for the series." SlideToPlay

"I was impressed with the console-quality graphics and gameplay elements." PC Mag

Modern Combat 2: Black Pegasus further improves the exemplary gameplay of the first Modern Combat for an astounding immersion in a modern war experience and one of the most complete FPS multiplayer games on the iPhone.

AN IMPECCABLE PRODUCTION ENHANCED BY THE MOST TENSE GAMEPLAY YET
- The original control modes (Default, Screen Tap, Virtual Sticks) have been further refined for an impressive gameplay fluidity.
- A new full gyro advanced control mode has been added for even more gaming comfort.
- Gyro-based QTEs and improved headshot sensations add to the stunning intensity of the gameplay.

A STUNNING DIVE INTO THE HEART OF A GLOBAL MODERN CONFLICT
- Embody one of the 3 playable characters and throw yourself into 12 battlefields set in the Middle-East, Eastern Europe and South America.
- Facial animations and instant-kill slow-motion create a breathtaking sense of immersion.
- 15 weapons from real military forces that you can gather directly from your enemies and upgrade with several accessories.
- Blur effects when taking fire and dynamic lightning on your weapon contribute to the realism of the war experience.

THE MOST COMPREHENSIVE FPS MULTIPLAYER EXPERIENCE ON THE APP STORE
- Engage in 10-player online and local confrontations.
- Choose between 4 multiplayer modes: Battle, Team Battle, Defuse the Bomb & Capture the Flag.
- XP progression through 72 ranks, reward messages, unlockable weapons and leaderboards ensure heated multiplayer competition.
- Gather your squad and face your favorite foes through Gameloft LIVE!

***************************************************************************
Follow Gameloft on Twitter to get more info about this game and all our upcoming titles at http://twitter.com/gameloft or read our official blog at http://blog.gameloft.com/

I found a new @Gameloft Game! Modern Combat 2: Black Pegasus: http://bit.ly/blackpegasus #222 Join the hunt: http://j.mp/GameHunter and follow @Gameloft!

What's this? http://j.mp/GameHunter

Certain apps allow you to purchase virtual items within the app and may contain third party advertisements that may redirect you to a third party site.
• Fixed a bug that prevented to display the correct online rank
• Fixed a bug with the camera when you invert the Y-axis & shot
• Minor bug fixes
Ratings and Reviews
The best shooter out there
Simply amazing - although Gameloft is not known for their graphics or customer support, and this game is not exceptional in any of those areas, nut there is something about this game. The multiplayer is fantastically stunning - not because of the graphics, or even because there are tons of guns - but simply because it is a real challenge. The maps have amazing re-playability (I spend all my time on avalanche) and I cannot even begin to imagine how hard it would be to master one map, let alone 10. The weapons are balanced (although the clips seem small on the automatic weapons imo, but whatever.) A noobie will not have too much trouble starting out, especially if they avoid large maps and stick to facility. However, veterans will be rewarded with massive quantities of powerful weapons and perks, while staying somehow well balanced.
In all, a fantastic game. Well worth the price for the campaign alone, but the multiplayer is priceless. Do not hesitate to buy. Best fps out there.
On a side note, if anyone has a Palringo account, join my group: ~usmc~clan~ Thanks.
- Bond
I honestly don't see what's good
Before you pass by this review thinking it's just an angry gamer, just hear me out. This game... it's basically a carbon copy of Black Ops/MW2. The story is really generic, how many times are you going to use the terrorist plot? The voice acting especially is sub par. It sounds like a 16 year old voiced half of the characters in this. Another problem I have with this game is the brainless AI. The enemy AI basically rushes you with no tactics or lands shots the second you even move from cover. It's so robotic and unnatural you'd think they're cyborgs. The teammate AI is even worse. Instead of having dead-on accuracy, he usually shoots a wall or in the air while I'm being mowed down by the rushing enemies. The game gets amazingly boring after the first mission because it ends up being the same every time. First you come in with your guns, go through a couple rooms killing guys, random plot twist happens occasionally, you hold out for a couple minutes, then you rush out gunning down whoever passes by. The ending is also so predictable you'd think that an army ad logo would pop up because of how unrealistically patriotic. There are good things in this game, but not many. The combat is pretty fun, but gets stale quickly. This game at least has a decent story for a mobile game, but it isn't so good. That's about it, I hope Gameloft improves on Modern Combat 3, but so far it isn't looking so good.
Needs to be more realistic
Would be nice if you could have a 2nd perk in multiplayer. Map pack is good. And why cant u have sights on more guns. MAKE IT MORE REALISTIC. Grenades should take a lot longer than they do and reloads should take a realistic amount of time. People go around throwing grenades when they die just to take you too. If they took a realistic amount of time, it wouldnt be a problem. But you dont even have to pull a pin and if u r shooting from ur right shoulder wouldnt u probably throw a grenade with ur right hand? IF YOU WANT TO WIN, DO IT FAIRLY! I do usually win but it gets annoying when people throw grenades just because they arent good. This is a great game but needs those improvements. I payed $7+$2 and am happy with it. Dont be mad if you lost $2 or $7 its really not that much. People can be good without being a hacker. You would be lucky to see an actual hacker. Mc3 is amazing. I thought this was as good as they get as far as ios fpss. Mc3 is so much better and this is still awesome.
Information
Seller

Gameloft

Size

595.5 MB

Category

Compatibility

Requires iOS 3.1.3 or later. Compatible with iPhone, iPad, and iPod touch.

Languages

English, Chinese, French, German, Italian, Japanese, Korean, Spanish

Age Rating

You must be at least 17 years old to download this app.

Frequent/Intense Mature/Suggestive Themes

Frequent/Intense Realistic Violence

Copyright

© 2010 Gameloft. All Rights Reserved. Gameloft and the Gameloft logo are trademarks of Gameloft in the U.S. and/or other countries.

Price

$6.99

In-App Purchases

Modern Combat 2: Map Pack 1

$1.99
Supports
Family Sharing

With Family Sharing set up, up to six family members can use this app.