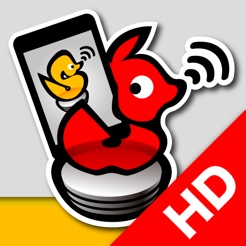 Description
Your iPad works as a Wireless USB Flash Drive!

ServersMan HD turns your iPad into Personal Data Center!
You can share files to your friends, or publish web pages.

ServersMan HD is a free Multi Document Reader that helps you to move files into and from your iPad.

Features of ServersMan HD(iPad)

In addition to functions of iPhone version, files can be transferred with other applications within your iPad. For example, you can send files in your PC or Mac into your iPad through ServersMan HD via Wi-Fi or 3G. Later on the files can be transferred into iBook or other applications, therefore you don't need to connect iTunes with the cable.

How to Use
1. Start ServersMan HD, and sign-up
2. Login with your account from serversman.com
3. Send in or out files.

------------Basic Features ------------
1. iPad as network storage
Files in your iPad will be accessible not only from devices in the same LAN, but also from all kinds of network devices which is connected to the internet via 3G. While working between LAN and WAN using Emotion Link technology, the security is assured by SSL Encryption.

You may want to use ServersMan HD(iPad) when you:
-publish photos you have just taken
-let your friend where you are at now

2. Multi Document Reader
On your iPad, you can open files uploaded to ServersMan folder. Those files can be transferred with other applications within the same iPad. With ServersMan's original stress-free PDF function, you can read PDF files including many pages.
You may want to use ServersMan HD(iPad) when you:
-check files in the device when you are not at home/office
-ask your friend to resend files in your iPad when you forget to save them at your computer
-get files of your memo.

3. Web Server
http://serversman.net/-your-iPad-name-/

With the address above, you can instantly publish files to the Internet as a web site.
You may want to use ServersMan HD(iPad) when you:
-rent a web server to have your website

When you don't want to publish, all you need to do is to shut down the application.
You do not need to upload to a server on the internet

You do not need to upload files to a server on the internet, but the iPad itself becomes a server having a unique URL. It is aiming the world's first Personal Cloud Server.

Some data are available for mash-up use with using iPad's functions, such as GPS, and picture libraries.


ServersMan Web Site: http://serversman.com/

Twitter Web Site: http://twitter.com/serversman/

YouTube: http://www.youtube.com/serversman/

*Notice
Free online registration is required to use this application.
ServersMan uses port numbers: 443, 8080, and 8888.
Continued use of GPS running in the background dramatically decrease battery life.

Ratings and Reviews
Doesn't work, poor English and superseded by iCloud
See above, a shame really, but it's all true.
Awesome!
Ok, just as good as earlier versions. Running on various iPhone versions, and 3 versions of iPad and very nice. Simple to setup, and easy to navigate and perform tasks.
Will not login
I'd love to use this software, but when I go to login, it crashes every time. Even reinstalled three times, and still crashes when I connect. I'd love to run a local web server, not just for filesharing, but to have a local copy of my website on my iPad, so even if I'm lacking a net connection, I can still show it off.
Information
Seller

FreeBit Co., Ltd.

Size

8.7 MB

Category

Compatibility

Requires iOS 3.2 or later. Compatible with iPad.

Languages

English, Japanese, Simplified Chinese

Age Rating

Rated 4+

Copyright

© FreeBit Co., Ltd.

Price

Free
Supports
Family Sharing

With Family Sharing set up, up to six family members can use this app.