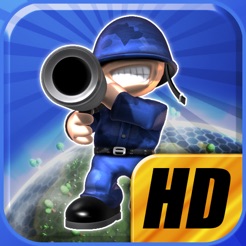 Great Little War Game HD
12+
$2.99
Offers In-App Purchases
Description
GLWG is the hit 3D turn-based strategy game that everyone's talking about. With a unique comical style and plenty of laughs and excitement, you'll keep coming back again and again for "just one more go."

Core Features:
▶ Campaign mode
▶ Multiplayer mode
▶ Skirmish mode
▶ GameCenter achievements
▶ Four difficulty settings
▶ Lush visuals, esp. on iPad 2
▶ Full 3D terrain affects gameplay
▶ Simple control method
▶ Lots of units
▶ Lots of terrain types
▶ High replayability
▶ Extra campaigns via cheap iap
▶ Tons of humour
▶ Absolutely no birds or zombies

Take command of your army and battle the foe on land, sea and air but be sure to make wise decisions as you go. You want to deploy your soldiers to take full advantage of the higher terrain, natural choke points, ambush spots and defensive walls. Get it right and the bad guys will lose to your superior strategy skills.

See what the critics are saying:


▶ TapScape review: 10/10

"Great Little War Game is just that: a well-designed and enjoyable tactical war game perfect for those who enjoy the lighter side of virtual warfare."


▶ Touch Arcade review: 5/5

"I'll call Great Little War Game "great" without hesitation" ... "the kind of game you can really sink your teeth into, which is rare enough. So I'm delighted to discover that it's also rich in features, good looking and full of humor."

▶ Top10.com: First place (march)

"The lavish production values of the game, incredible attention to detail and excellent animation gives you a sense of aerial, naval and land warfare that gets as good as you can expect on a small screen"


▶ Infinipixel review: 9.5/10

"Between the improved AI and wonderful new modes, I'm going to have to give GLWG a solid 10 in this category. It features the best gameplay I've found in any mobile turn based strategy game I've played to date."


Varied missions are the order of the day here - capture the enemy HQ, escort the Generalissimo to safety, guide small squads behind enemy lines, defend your base...you get the picture. There are 20 missions included, so it's going to be one crazy ride if you decide you're brave enough to give them a try.

What are waiting for? Right now, as you sit reading this, there is a battalion of soldiers just waiting for your command. Download Great Little War Game now and take your place alongside your troops. Lead well, live long and have fun.
* Fix for a crash occurring when language on device is set to French.
Ratings and Reviews
Great turn-based war game
Has all the expected units with appropriately balanced strengths and weakness to reward good strategic planning. A good campaign mode that makes sure you learn the skills and strategies that will be essential on later levels. On easy mode it is quite easy to work out what you did wrong and win with a modified strategy. Harder levels are too tough for me at the moment so I expect there will be lots more to learn or even more powerful units to unlock. The best part is learning to fight on multiple fronts, holding one front while attacking another or retreating and regrouping. It is more involved that quick attacks although they have there place in this game as well. I like the advantage or getting a sniper on high terrain... Neutralising an enemy sniper on high ground is great fun. The characters have cute sayings when they die that vary a little bit and have adjustable settings. They also do gestures to wave their colleague forward etc. My favourite part is having a 'heroic' unit that gets sent into danger, takes heavy fire but survives to inflict damage on the enemy---these units get promoted and get a health boost to continue being 'heroic'.
GLWG: It really is a great little war game!
This is the app that I have been waiting for. It's fun; it's strategic; and it is nicely put together. The AI is a little too easy to defeat, but is still capable of slowing your achievement of awards.

The game is reminiscent of Worms, and has the same easy play style. Character animation is comical at times, especially when infantry units duck to avoid incoming missiles.

The game looks good, plays well, and is highly recommended.

I would like to see more customization of AI strength, and a larger array of available troop and vehicle types and upgrade options... But then we'd have a turn-based Command and Conquer game on our hands. What's wrong with that, I say?

Can't wait for GLWG2!!!
Glwg review from merp700
This game is a very entertaining game due to its substantial thinking of strategy and its colossal activity of dialogues and comedy sarcasm. I without a doubt enjoy using new units and especially navy and air units. It's skirmish mode is to the extreme entertainment as the bases are ridiculously close.

Although I do admit it that some levels are very hard to accomplish and especially hard to get a trophy. And the fact that your army side receives a great disadvantage is heck annoying.

But overall this game is AWESOME!!!!!!!!!!
Information
Seller

Rubicon Mobile

Size

38.6 MB

Category

Compatibility

Requires iOS 3.2 or later. Compatible with iPhone 3GS, iPhone 4, iPhone 4S, iPhone 5, iPhone 5c, iPhone 5S, iPhone 6, iPhone 6 Plus, iPhone 6S, iPhone 6s Plus, iPhone SE, iPhone 7, iPhone 7 Plus, iPhone 8, iPhone 8 Plus, iPhone X, iPhone XS, iPhone XS Max, iPhone XR, iPhone 11, iPhone 11 Pro, iPhone 11 Pro Max, iPad, iPod touch (3rd generation), iPod touch (4th generation), iPod touch (5th generation), iPod touch (6th generation) and iPod touch (7th generation).

Age Rating

12+

Infrequent/Mild Horror/Fear Themes

Infrequent/Mild Profanity or Crude Humour

Frequent/Intense Cartoon or Fantasy Violence

Copyright

© 2011 Rubicon Development

Price

$2.99

In-App Purchases

All Out War, additional mini campaign

$4.49

Holiday from Hell

$4.49
Supports
Game Center

Challenge friends and check leaderboards and achievements.

Family Sharing

Up to six family members will be able to use this app with Family Sharing enabled.