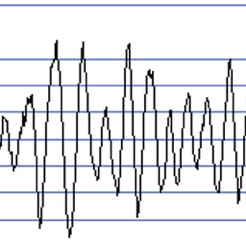 Description
***See [i] button -> Donate Link to help Japan! ***

Start iSeismometer, leave it on your desk, then try tap somewhere. You will realize how sensitive iPhone is!

This is our new project to convert iPhone to seismometer. We created for fun and educational use, such as data collecting device.

---------------
In Total Ranking:
- #3 in Italy
- #28 in Japan


In Education Category Ranking:
- #1 in Japan
- #11 in US! (*new*)
- #1 in Austoria,Finland and Greece
- #3 in Norway
- #5 in Japan and Belgium
- #8 in Denmark
- #9 in Norway
---------------

Please feel free to give us suggestion and feedback (iphone@objectgraph.com).

[Instructions and Information]
-iSeismometer stores 10 seconds of data. Recording duration will be increased in a future version.
-If you suspend recording, you can drag the screen to re-track the previous data.
-Submit data on the website with your location info.
-You can also customize the target URL. See our website (http://iphone.objectgraph.com/iseismometer/) for more details.
-Send the URL to your email address so that you can easily download the data as csv file.
-Spectrum shows the Hz
-Alarm to detect a sudden motion
-Adjustable sampling rate
-Realtime Drawing On/Off
-Timeline Drawing On/Off
-X-Y-Z illustrated
-High-Pass Filter On/Off
- Lots of more options... See the screenshots!


[User's Comments]
-"While I can see this has real possible applications, the only semi-serious use I've had is showing my 95 year old grandmother her washing machine was out of balance. (fixed it) The look on her face was PRICELESS. Thanks!" - by KeyboardError
-"Can't stop playing around it!" - by SeatlleBoiler
-"I sat on my desk and watched it as I wrote and used my laptop it picks up everything" - by Stretch Man
-"Unfathomable coolness" - by AbrahamKafi
-"This tool is really great , imagining a real potential" - by ITester
-"Cool to put subwoofer" - by thatkid

We were covered in "The Independent Guide To The iPhone 3Gs" By Nik Rawlinson. Here is his review

"This is a novelty app but one that also helps you learn something new. The concept is simple. You just leave tour iPhone on hard surface with the app fired up then tap somewhere nearby and watch what happens.

It looks like something you'd find in a hospital, but it's one of those things that is very captivating once you've looked at it once. In fact, we completely lost track of time when we played with this app as we tried out different tap-based compositions – MTV had nothing on us during this review.

You've got the ability to pause the 'recording' of movement around the iPhone, in addition to looking at colorful spectrum graph of what occurred in the three seconds prior to requesting that data.

We didn't quite understand what the chart was showing us. But it looked pretty nonetheless and it'll make you look über intelligent to anyone looking over your shoulder .

The app will monitor movement for 10 seconds and report back on the last three seconds of activity. You can then upload that data in snazzy graph format to the web for all to see. Old friends will probably think you've changed career."
Transmit causes lock up
Good app for simple needs. But when transmit signal is switched on the app locks up (on an iPhone 6, iOS 8.1).
I use this for kids outreach events to have them build a structure to be shook on a shake table for earthquakes, and see what kind of accelerations their building experiences. Having data transmission would really help speed up some analysis to give the kids results.
Please update this app for iso 11
Please update !!!
Good APP.
Please update this APP.
Information
Seller

ObjectGraph LLC

Size

557.1 KB

Category

Compatibility

Requires iOS 3.0 or later. Compatible with iPhone, iPad and iPod touch.

Age Rating

4+

Copyright

© ObjectGraph LLC

Price

Free
Supports
Family Sharing

Up to six family members will be able to use this app with Family Sharing enabled.