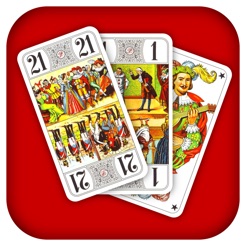 Description
*** PLAY TO FRENCH TAROT ON YOUR MAC ***

Play to the popular French Tarot card game, against opponents simulated by an high-level artificial intelligence.

All official rules are handled :
- Play at 3, 4 or 5 players.
- Declare Handful.
- Declare Misere.
- Lead one trump to the last trick.
- Announce a slam.

Easy to use, the game is very fast and responsive, with card animation for a more realistic gameplay.

*** AN HIGH-LEVEL ARTIFICIAL INTELLIGENCE ***

Your opponents and teamates are simulated by an high-level artificial intelligence, that knows the common strategies used in tarot card game. Therefore the game is very realistic, close to game with real players, and the challenge is high.

*** A CUSTOMIZABLE APPLICATION ***

- Play counter-clockwise or clockwise
- Play with or without misere.
- Play with or without Small contract.
- Change the player's name.
- Change the speed of the game
…

*** AN APPLICATION THAT WILL MAKE YOU BECOME BETTER ***

A section with statistics is included in the application, allowing you to monitor the evolution of our performances. And you can distinguish yourself thanks to Game Center Achievements and Leaderboards.

For beginners, rules of French Tarot are also included into the application.

Finally, you can at the end of the round see all the tricks, and replay the round if we want, to train and try new strategies.

For any question regarding the application : support.tarot@eryodsoft.com

Have fun playing French Tarot !
- Add training game mode.
- Improve AI.
- Bug fix.
Information
Provider

Eryod Soft

Size

7.2 MB

Category

Compatibility

OS X 10.7 or later

Languages

English, French

Age Rating

Rated 4+

Copyright

© 2013 - Eryod Soft

Price

229,00 Kč
Supports
Game Center

Challenge friends and check leaderboards and achievements.

Family Sharing

Up to six family members will be able to use this app with Family Sharing enabled.