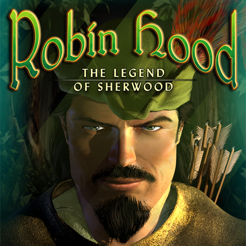 Robin Hood - The Legend of Sherwood
12+
Description
England, year of our Lord 1190. King Richard the Lionheart is being held prisoner and his brother, Prince John, is oppressing the masses. Only one man dares to rebel against this oppression, assisted by a handful of brave and loyal followers. His name: Robin Hood.

On his return from the Crusades, Robin discovers a slightly different England from the one he left behind: Prince John has taken to the throne while he was gone. What's more, the Sheriff of Nottingham is taking advantage of the situation, forcing the poor villagers to pay countless taxes.
Take charge of a group of characters, each one with their own skills and abilities, which you will have to put to good use if you want to finish each mission without any trouble. There are nine characters in total, including Robin, Friar Tuck, Little John and Maid Marian, and each one has their own particular strengths.

You will have a whole arsenal of weapons at your fingertips, which you need to use to get rid of your enemies without causing too many fatalities: each mission earns you supporters, directly proportional to the number of guards the group has spared, among which you'll find mustached, aggressive and strong companions.

Be careful though, as the guards will be out in force, and you'll need a lot of patience and perseverance if you want to finish the more challenging missions without fighting any of them.

● Select your missions and team members and relive his adventures in a full campaign.
● Over 30 missions available, during which you will save Little John, prevent Marian from marrying the infamous Sir Guy of Gisbourne, launch an attack on the tax collectors' convoys in Sherwood Forest and much more!
● 5 huge castles that you can visit in different circumstances: day or night, or in bad weather.
● Play up to 9 different characters, each one with their own specific characteristics.
● Use your computer mouse in an innovative fighting system.
● Your victory depends entirely on your tactical decisions. It's up to you to choose whether you infiltrate the castles discreetly or take on your enemies courageously, armed with your sword and bow.

FOLLOW US !

MICROIDS
On twitter.com/microids_off
On facebook.com/microids
On www.microids.com/
Various improvements.
Correction of bugs reported by users.
Ratings and Reviews
Hra je v němčině - jak to vyřešit? / game is in German - how to solve it?
Tato hra by měla být dostupná ve 3 jazycích (Angličtina, Němčina, Francouzština), ale po jejím stažení a zapnutí je vše v němčině! Pokud si chcete zahrát hru v Angličtině / Francouzštině, tak postupujte následovně:
1) jděte do složky Aplikace (nebo do složky, do které jste si tuto hru nainstalovali)
2) klikněte pravým tlačítkem myši na ikonu hry Robin Hood a vyberte "Zobrazit obsah balíčku"
3) Musíte se proklikat až k jazykovým mutacím: Contents -> Resources -> tady jsou 3 složky pojmenované 1031 (němčina), 2047 (angličtina), 1036 (francouzština)
4) přejmenujte složku 1031, jak to záleží na Vás, já si ji přejmenoval 1031_german
5) pokud chcete hru v angličtině, přejmenujte složku 2047 na 1031; pokud chcete hru ve francouzštině, tak přejmenujte složku 1036 na 1031
6) spusťte hru a užijte si ji

P.S. touchpad je trochu nepřesný, doporučuji myš

———

This game should be available in 3 languages (English, German, French), but after downloading and starting all (text and speech) are in German! If you want to play it in English / French here is how to do it:
1) go to the app folder in your mac (or where didyou install this game)
2) right click on Icon Robin Hood and choose "Show Package Contents"
3) You have to find language mutations: Contents -> Resources -> there are 3 folders named: 1031 (German version), 2047 (English version), 1036 (French version)
4) rename folder 1031, it depends on you how, I did 1031_german
5) if you want game in English - rename folder 2047 on 1031; if you want game in French - rename folder 1036 on 1031
6) Run game and enjoy it

P.S. touchpad is little bit inaccurate, I recommend mouse
Information
Provider

microids

Size

870.7 MB

Category

Compatibility

OS X 10.9 or later

Languages

English, French, German

Age Rating

Rated 12+ for the following:

Infrequent/Mild Horror/Fear Themes

Infrequent/Mild Alcohol, Tobacco, or Drug Use or References

Infrequent/Mild Cartoon or Fantasy Violence

Copyright

© Anuman Interactive SA

Price

249,00 Kč
Supports
Family Sharing

Up to six family members will be able to use this app with Family Sharing enabled.