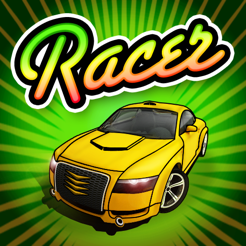 Beschreibung
"...it's a pure reaction game.....I recommend it." - Arnold Kim, Touch Arcade

"Racer doesn't mince words. It is indeed a racing game." - IGN

"Racer is a beautifully designed, addictive game that will rattle your nerves worse than rush-hour traffic but keep you coming back for more." - Macworld (rated 4.5 out of 5)

"If you haven't picked up Racer, we highly recommend you do. Speeding down a highway without the worry of cops has never been so much fun...." - SlideToPla

"....its style alone is enough to encourage playing it. Recommended!" - 148Apps

"Racer is a great update of the handheld racing games. It's also a lot better and even a lot cheaper. I think I just found the perfect fast lane!" - appVersity

"All in all, Racer is a simple game that offers everything an iPhone gamer could ever wish for. Online highscores, great graphics, and surprisingly addictive gameplay make this game a wonder." - No DPad

"Racer is great fun as a pick-up-and-play time killer." - Simon Bull, News Shopper UK

************************************************************
Racer is a simple, fun and addictive racing game where you drive your car with a finger through the extreme highway traffic. If you always wanted to test your reaction skills and have a good fun on the road but had enough sense not to try it in real life, Racer is your choice.

Rules are very simple: put your finger on the car and drive through the traffic. Extreme and fast driving will speed up your score. There are 4 game modesto chose from. "Normal" and "Hard" are classic dodging games and "Slalom" adds the ability to collect the stars for additional scores. In the "Career" mode you have to complete 20 stages and collect a minimum required number of stars to finish each stage. New cars will be unlocked in "Career" mode only. Let's start your driving experience and check your reaction!  

Features:
• Addicting gameplay
• Fun game modes to play!
• Cool player cars with different control responsiveness to drive!
• Top100 Global, Local & Friends scoreboards with scrolling function
• Facebook integration (show your friends who's the best)
• iPod music library access
• Force feedback
• In-game news
• Free updates

************************************************************
For news and updates:
on Facebook: www.facebook.com/tatemgames
on Twitter: www.twitter.com/tatemgames
on YouTube: www.youtube.com/tatemgames

Thank you for playing our games. We read all of your comments and do our best to make the game better. Keep going!
- bug fixes
- updated news component
Wow!!!!!!
Echt cooles spiel tolle grafik einfach genial und dazu noch kostenlos !!!!!
Gute Idee schlechte Umsetzung
Hab's gekauft gespielt gute Grafik blöde Steuerung und schlechtes Menü
Scheise
das spiel ist eigentlich ganz gut doch es nervt wenn man nach dreisig sternen abscheist obwohl man alle hatte außerdem habe ich von lvl 5 bis 10 gespielt und als ich dann endlich ein neues auto hatte war ich wieder bei lvl 5.
Informationen
Anbieter

Tatem Games Inc.

Größe

7.9 MB

Kategorie

Kompatibilität

Erfordert iOS 3.0 oder neuer. Kompatibel mit iPhone, iPad und iPod touch.

Alter

4+

Copyright

© 2009 Tatem Games

Preis

Gratis
Support
Familienfreigabe

Wenn die Familienfreigabe aktiviert ist, können bis zu sechs Familienmitglieder diese App verwenden.