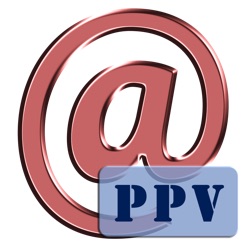 Email Marketing PPV
4+
Gratis
Ofrece compras dentro de la app
Descripción
Email Marketing PPV, pay only for the search you really want!

Email Marketing PPV is a powerful and easy tool for building email list targeted to a specific market subject. It's as simple to use as a search engine, You only need to specify the keywords and Email Marketing will bring thousand of emails addresses parsed from the search results.

Once you got the results you decide to purchase a consumable export or ignore and make another search. If you decide to pay, you can export the emails of this search to CSV (adequate for databases or Outlook) and VCF (adequate for GMail, Apple Agenda and many other email systems)

* Search for regular expressions.
* Besides the search engine, you can specify a list of domains where the search will be performed.
* New filter to ignore emails such as admin, webmaster, abuse, and so on. You can edit the filter to ignore or retrieve the emails you wish.
* You can export only the columns you wish.
* You can specify the search depth of the domains, from 1 (only explore Home page) to 5 increasing the number of retrieved emails up to 400%.
* Improved crawl algorithm. Now is even faster than previous one.
* Select the max number of pages retrieved in a domain, from 100 to 5000.
* Improved algorithm, your searches will run faster.
* Now you can use search engines from a specific country so the results will be targeted to this country.
* New option to select the CPU consumption from Low, Normal or High.

There are search engines for the following countries:
All countries (.com)
Algeria
Argentina
Australia
Austria
Bahrain
Belgium
Brasil
Canada
Chile
Colombia
Denmark
Egypt
Finland
France
Germany
Greece
Hong Kong
Hungary
India
Indonesia
Ireland
Israel
Italy
Japan
Korea
Malaysia
Mexico
Morocco
Nederland
New Zealand
Norway
Peru
Poland
Portugal
Russia
Saudi Arabia
Singapore
South Africa
Spain
Sweden
Switzerland
Taiwan
Thailand
Turkey
United Kingdom
USA
Venezuela

NOTE: You purchase the search result so you can export it. If you repeat the exact same search, because the results can be different you should make another purchase.
Valoraciones y reseñas
Malísimo
Se cierra antes de finalizar una busqueda, en el monitos ofrece resultados que nada tienen que ver con la palabra clave… en fin, no compres las listas a menos que quieras tirar tu dinero.
Información
Proveedor

Gema Maria Martinez

Tamaño

785 KB

Categoría

Compatibilidad

OS X 10.6 o posterior

Edad

Clasificada 4+

Copyright

© 3y3.net

Precio

Gratis
Compatibilidad
En familia

Hasta un máximo de seis miembros de tu familia podrán usar esta app si tienes En familia activado.