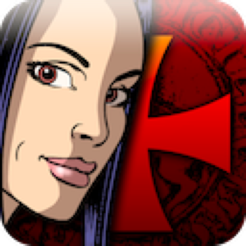 Broken Sword - Shadow of the Templars - Director's Cut
12+
Description
Paris in the Fall… a brutal murder at the Palais Royale. When Nico Collard is invited to interview statesman Pierre Carchon, she finds herself inextricably drawn into a terrifying conspiracy.

One of the all-time classic adventures, multi BAFTA-nominated 'Broken Sword: Director's Cut' pitches sassy journalist Nico Collard, and intrepid American George Stobbart into a mysterious journey of intrigue and jeopardy. Guide George and Nico on their globe-spanning adventure, exploring exotic locations, solving ancient mysteries, and thwarting a dark conspiracy to reveal the secret truths of the Knights Templar.

'Broken Sword: The Director's Cut' introduces an intricate new narrative thread, alongside the classic story that has charmed millions of players. It's time to experience George and Nico's worldwide adventure in a whole new way, with brand new puzzles, hilarious new jokes, and the distinctive, rich story that made the series so deservedly renowned. This is adventure gaming at its very best.

"…this is a must-play game: a latter day blockbuster in a director's cut form" - The Independent online (5/5)

Full English, German, French, Spanish and Italian speech and subtitles included.
port it better
very good game - all I have to say on that matter - play this before playing the second one, otherwise your experence will not be as fun.

I agree with peoples complains about the resolution but i would also include frame rates within that argument, which should have really been updated (wouldnt be THAT hard for them). However, a 27" screen will show this up….. perfect for laptops and iPads though…

PLAY THIS GAME DESPITE MY CRITICISMS (theyre purely for the developers)!!!!

now where are games 3 and 4? port please o and some escape from monkey islands wouldnt go amiss
Brought back some good old memories, love the director's cut :)
This game came out when i had the original Playstation and although the Apple Mac version isnt as visual its still an amazing game and of all the Broken Sword versions my favourite, the director's cut is also an added bonus as there is more scenes added which make it feel in part like a new game i havent played before. All in all worth the buy and will give you hours and hours of frustrating fun, only little snag i have is that if you cannot figure out what to do next there is a hint function to help you out, bit of cheat considering the original version never let you do this but then its upto you if you wish to use it i suppose.
Great fun, well worth a fiver
Unlike many people here I'd not played this years ago when it first came out. But I thoroughly enjoyed it, and will now be getting the next one. I hope they remaster the whole series. Clearly being an older game, the graphics might not be what you'd expect now, but the story is strong, and it's that which makes the game so enjoyable. And even if the graphics aren't super-modern, they have a cartoon charm which I rather liked and works well with the humour and tone.

I played in fullscreen mode on a 27inch cinema display. Filling the screen made the whole thing more immersive and was definately better. Unlike some who say the resolution wasn't good enough, it was perfectly fine. Sure, it was blown up from lower res, but I didn't find that reduced my enjoyment at all.

A good story, touches of light humour and decent puzzles are what this genre is about - it's not about the latest game engine, so if you value narrative I highly recomment this. The game design, if old still stands up well, and is a testament to the excellent design of the original.

It deserves to be a classic along with titles like Monkey Island
Information
Provider

Revolution Software Limited

Size

1.2 GB

Category

Compatibility

OS X 10.6 or later

Age Rating

12+

Infrequent/Mild Cartoon or Fantasy Violence

Infrequent/Mild Sexual Content and Nudity

Infrequent/Mild Profanity or Crude Humour

Infrequent/Mild Alcohol, Tobacco, or Drug Use or References

Copyright

© Revolution Software Ltd

Price

£7.99
Supports
Family Sharing

Up to six family members will be able to use this app with Family Sharing enabled.