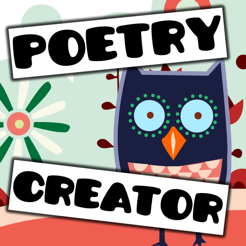 Poetry Creator | Verses - Poetry, Poems & Poets
12+
Free
Offers In-App Purchases
Description
Ever wonder what it would be like to mash-up a Shakespeare poem with a Hip Hop Song? Verses is a new iPhone and iPad app that puts a fresh spin on a cherished classic: refrigerator magnet poetry. We built this app to set your creativity ablaze with Verses's limitless word mixing possibilities that allow you to become a kind of dictionary DJ. After creating a poem out of your own personal mix of dictionaries, you can send your creation to friends via email or publish it in your Facebook photo album! (network connectivity required)

Arranging words into your own poetry is much easier and smoother (and thus more enjoyable) using Verses, as opposed to the original "real life" fridge magnets. But even more enjoyable is the pleasure of sharing your poetic creations with friends. With the click of a button, you can publish your poem to Facebook (assuming you're logged in). Then ALL of your friends can see your creativity, not just the ones who happen to be in standing in front of your fridge (Facebook account and network connectivity required). Plus you can email your poetry directly to your friends, all without ever leaving the app. You can also save your poetry to your device's photo album.

Verses comes with 4 dictionaries, including:

•Old School Words
•New School Words
•'The' Dictionary
•If Ands Or Buts Dictionary

You can also buy premium dictionaries for an additional cost, which can add even more flavor and character to your poems. Premium dictionaries are available as optional in-app purchases and include:

•Hip-Hop Dictionary
•Beatnik Dictionary
•60's Dictionary 1
•60's Dictionary 2
•LOL-tionary
•Sci-Fi Dictionary
•Shakespeare Dictionary
•19th & 20th Century Dictionary

We've also added Achievements that will track your progress and keep a tally of your own personal "Poetry Score."
•Add your own custom words!
•6 New Dictionaries!
Not bad at all
Good front end, easy to use but I hate having to pay for extras, just put a good opening price on the app and then update as required.
Great fun and inspires creativity
Have enjoyed this app for sometime since purchase a while back. Easy to use, fun and creative at the same time. I don't just use it for a moment of fridge poetry - chuck some random words at the wall and it creates a spark for brainstorming and ideas for all sorts of other projects. I did hesitate initially at buying word bundles, but they certainly breath extra life into the app. Pleased to see an update, and it's cheaper to expand the app by buying a pack of dictionaries. I just had to email the developer a question regarding the update and it was answered immediately, so good customer service too.
Very useful
David Bowie famously created lyrics by cutting up words on pieces of paper, reassembling them into his greatest songs and this is a very useful and easy to use app that makes this process easier. One major improvement would be to allow users to swap an unwanted word for a random replacement, like changing a letter in Scrabble.
Cheers though guys!
Information
Provider

Tiny Mobile Inc.

Size

10 MB

Category

Compatibility

Requires iOS 4.0 or later. Compatible with iPhone, iPad and iPod touch.

Age Rating

12+

Infrequent/Mild Alcohol, Tobacco, or Drug Use or References

Infrequent/Mild Mature/Suggestive Themes

Infrequent/Mild Profanity or Crude Humour

Infrequent/Mild Sexual Content and Nudity

Infrequent/Mild Horror/Fear Themes

Copyright

©2010 & 2011 Tiny Mobile

Price

Free

In-App Purchases

Beatnik Dictionary

£1.99

Hip Hop Dictionary

£0.99

Words From the 60's

£0.99
Supports
Family Sharing

Up to six family members will be able to use this app with Family Sharing enabled.