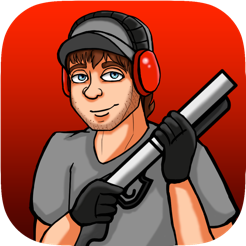 Description
Welcome to Shotgun FunFun 2.0
A Zombie virus has infected the denizens of Hell where the demons are starting to turn into rotting flesh and corrupting their evil spirits. The Demon Zombies are losing their mind's and their ability to think clearly about evil plans, instead they have only one thought: spread the virus to all living and non-living things. Somehow these new breed of Demons have been able to break out of Hell's confines and are starting to move towards the surface of the planet which will wreck havoc on all of the surface people.

Buck Morris felt the disturbance in the planets crust and immediately began preparing for battle with his trusty shotgun! Locating the first of many places that have been overrun with Demon Zombies, he travels to the next demon infestation that will be broken through by the single-minded rotting Demon horde. The location is in the dark depths of an old castle dungeon, below it's foundation.

Can you help Buck Morris stem the tide of the Demon Zombie Horde coming to the surface?

Buck Morris awaits you...

Have Fun trying to kill 100,000 Demon Zombies!

We have listened to your feedback about the new Shotgun FunFun 2.0 graphics and are now offering for FREE Shotgun FunFun Legacy edition that you can find at
IOS: https://itunes.apple.com/us/app/shotgun-funfun-legacy/id1020812680?ls=1&mt=8
Mac: https://itunes.apple.com/us/app/shotgun-funfun-legacy/id1020812964?ls=1&mt=12 If you like the old game graphics then this is the version you want.

We have also decided to update the name of the current version to Shotgun FunFun HD to distinguish it from the Legacy version. We are planning to continue work on our future goals to provide more content and features that other players have been requesting for many years.
- New Ammo Types
* 00 Shot - Medium spread and damage
* Bird Shot - Wide Spread and low damage
* Slug Shot - Minimum Spread and high damage
- Bug Fixes
- Performance improvements
Ruined it.
This game used to be great fun. The graphics were cute and adorabale, and the demons were fun to gun down. And then I decided to update it, which was a huge mistake. The graphics turned from cute to absolutley monsterous. You were actually SCARED of the demons that used to be so cute, and you're character is the worst voice-actor since the first Resident Evil game. The developers have ruined this game and I hope they get torn apart by the demons in this game.
Was Great, now Crap!
What happened to this game?! it was brilliant and now its damm aweful! The sounds are terrible, the voice acting terriable and the graphics are dreadful.
This game is offically dead..
Great!... but needs work
Things that are good - The concept is fantastic, sort of like a Mario type world, only less colourful and nice. I liked the sounds personally and the shake of the screen when you shoot was great, especially on the 27" iMac in fullscreen. Speaking of fullscreen, the game supports this feature very well, only loosing a fraction of graphically detail when stretched to the full 2560x1440 size.

Things to improve - When a demon-zombie is right up against your face, it's not possible to shoot him; you have to move away then shoot instead. Also, it would be nice to have different weapons/different shotguns or upgrades. The score table also isn't the best, I would suggest adding an extra 0 on the end and showing the points you score throughout the game, then at the end; adding/subtracting the combos. Also, jumping from ledges to ladders isn't possible, which is sometimes slightly annoying. Plus, the game is very sensitive when controlling.

Anyway, overall a fantastic app which could turn into something great, it has the potential to. **TIP** - Camp on a ladder and shoot from there, yours basically invincible, but don't stay still for too long or you'll blow up (:

Thanks for reading, hope this helped, especially the tip at the end which should really be patched ;)
Information
Provider

Vmlweb LTD

Size

10.5 MB

Category

Compatibility

OS X 10.6 or later

Age Rating

12+

Frequent/Intense Horror/Fear Themes

Frequent/Intense Cartoon or Fantasy Violence

Copyright

© Indigon Inc. 2015

Price

Free
Supports
Family Sharing

Up to six family members will be able to use this app with Family Sharing enabled.