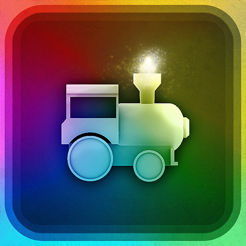 Description
New iOS 11 update coming soon! :)

Trainyard has the best user review scores on the entire App Store!

+ Innovative and challenging puzzle mechanic
+ Smooth difficulty curve
+ 100 main puzzles and over 50 bonus puzzles
+ Hundreds of ways to solve each puzzle
+ Puzzle editor: create your own puzzles
+ Retina display support
+ Easily share your unique solutions on Trainyard.ca
+ Looks GREAT on the iPad
+ Engineered for low battery usage
+ Colour-blind mode
+ Game Center support
+ A year in the making
+ Developed in my spare time (support indie games!)

[NOTE: there is a bug in iOS 8 where the game will freeze after a puzzle. To fix it, press Credits -> Rate It. You do not need to actually rate the game, just pressing that button will fix it. Sorry! ]

Stuck on a puzzle? Visit http://trainyard.ca/solutions where there are over *1.5 million* player-submitted solutions.

Trainyard is a puzzle solving game unlike any that you've ever played. It's easy to learn but very tough to master. Your job is simple: get each train to a goal station. Red trains go to red stations, blue trains go to blue stations, etc. You control the trains by drawing track for them to follow. There isn't a time limit or even a score; the only thing you need to do is figure out a solution for each puzzle.

The first few puzzles are almost too easy, but as the difficulty increases you'll be thankful that you were able to practice the fundamentals of drawing track. As the game progresses, you'll have to use colour theory to combine trains of different colours, use timing to merge and split trains, and use every inch of your brain in your quest to beat the game.

Find out more at http://www.trainyard.ca

Developed by Matt Rix (matt@trainyard.ca)

Proudly made in Canada.

Think you beat the whole game? Try to solve all the bonus puzzles! Done that? Try to match the track counts on http://trainyard.ca/solutions

Trainyard makes use of these excellent libraries:

+ Cocos2D-iPhone by Ricardo Quesada
+ XAuthTwitterEngine by Aral Balkan
+ Twitter+OAuth code by Ben Gottlieb
+ MGTwitterEngine by Matt Gemmell
+ ASIHTTPRequest by All-Seeing Interactive
+ SFHFKeychainUtils by Buzz Andersen
+ TouchXML by Jonathan Wight
+ FMDB by Flying Meat Inc.
+ Make your own puzzles!
+ Achievements
+ Game Center
+ Universal (works on iPad)
+ New puzzles
+ Hundreds of other bug fixes and improvements
Ratings and Reviews
A most satisfying and challenging puzzle
This game looks straightforward and boring. It's neither. It is, in fact, a masterpiece.

Trainyard starts slowly, introducing concepts at a pretty slow pace -- but you'll be glad of the practice when you get to the later levels! It still baffles me that such simple rules can lead to such terribly complex behaviour, but colour theory, track switching, and combining trains means that things eventually get /really/ hard. It also means that the satisfaction of solving some of these impossible-looking levels is unparalleled in any puzzle game I've played on iOS.

Be warned: completing this game is hard. You'll want to, though, because it always seems like a solution is within reach! There's none of the dumb luck that seems to be a component of games like Angry Birds or Cut The Rope (not that they aren't still fun); this is just about your brain, and whether you can think through the logic of your choices.

I took a break from this game when I finally met a set on bonus puzzles I couldn't solve. A year later, with fresh eyes, I've rediscovered the joys of Trainyard. It's still amazing.

In short, Trainyard is utterly brilliant, and I cannot recommend it highly enough.
Buy this game now - you won't regret it
I loved this game when I first got it, then it got dumped in my "stuck games" folder because I got stuck on the last level I needed to do before I could unlock the rest. ( and I didn't want to cheat by looking up the solution online). However with the new update there are now user generated puzzles too which is fantastic and you can make your own puzzles too.

It's also really nice to see the video of the developer so you can appreciate that they are a real person striving to make this game the best it can be. If you're still not convinced after reading all these five star reviews there is also the lite version which you can try for free so what are you waiting for?
Five stars is not an exaggeration
Love this game. It's a logic puzzle but it can be played by anyone. The controls are simple, the tutorials guide you through, the earlier levels leave you with a sense of accomplishment. But don't think this game is easy! It challenges you to think creatively and outside your comfort zone. And the most frustrating bit is knowing the solution is right there in front of you!
I've played this game through (including the extra levels), parked it for about 6 months, then come back to it as clueless as the first time. It's definitely a game you can play again. So worth the money for the extra levels.
Information
Provider

Matt Rix

Size

8.1 MB

Category

Compatibility

Requires iOS 3.0 or later. Compatible with iPhone, iPad and iPod touch.

Age Rating

4+

Copyright

© 2015 Matt Rix (Magicule Inc.)

Price

£0.49
Supports
Game Center

Challenge friends and check leaderboards and achievements.

Family Sharing

Up to six family members will be able to use this app with Family Sharing enabled.