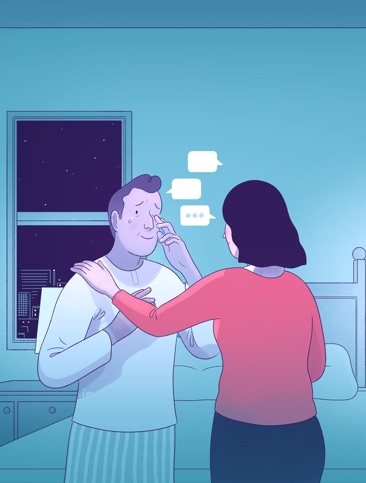 LIFE HACK
Discover the true power of words
And see how, with Wisdo, talking to strangers can offer the support you need.
You are not alone.

No matter how overwhelming things have become, how major or traumatic a life event you're dealing with, that's an important thing to remember.

Yes, it can feel like it. And it can be extremely difficult to find the right people to talk to. But professional help is available, as too are people who know how you're feeling or have experienced the same things.

You are not alone. You just need to know where to look for support and answers. You need Wisdo.
With more than 170 categorised support groups and areas for conversation, Wisdo is a community of support and shared experience. Whatever you're dealing with.

Whether you've just been diagnosed with cancer, are dealing with the loss of a loved one or find yourself suffering with anxiety, Wisdo ensures that you're not alone. If you're dealing with depression, coming to terms with infertility or learning to manage your PTSD, Wisdo finds you someone with similar experiences to talk to.

It's an app that is a power for good. And one that was born out of a very real – and personal – need.
Back in 2000, Wisdo's founder and CEO, Boaz Gaon, saw his father, the president of the Israel Cancer Association, diagnosed with cancer. Gaon, an investigative journalist, thought he knew what questions he should be asking. As things progressed, however, it became apparent that was not the case.

"What I learned in the long eight years that my father was ill is that when you're faced with a meaningful life experience you don't know what you should know. More importantly, you don't know whom you should know," he explains.

"Who are those people who have been in your shoes and have helpful, experience-based knowledge that you should really try and reach out to."

"What was missing was a roadmap. A place where you could be connected to the right people with the right pieces of wisdom that you didn't even think to search for."

That place is exactly what Gaon created.
Having evolved from an online platform to a life-transforming app in early 2018, Wisdo connects you with the people who can help, support and guide you. People who are hoping you can do the same for others.

Whether you're buying your first home or preparing for the arrival of your first child, Wisdo lets you seek advice in groups or request one-on-one chats. And with a 92 percent response rate to conversation requests, it's an app that is uniting people.

"You experience these events as if you're the first person in humankind to go through it but you know every step of the way that millions of other people have already been there," Gaon says.

Despite still being in its infancy, Wisdo's impact on people's lives has already been huge. Both for those seeking support and those giving it.
"One user shared with us that he had been a firefighter at 9/11. He had lost friends and as a result had been suffering with PTSD," Boaz tells us.

"He encountered the app, came on board, went into the PTSD community, became active, enrolled as a guide, was accepted and really started helping people. He then sent me such a powerful and moving note saying 'thank you for rescuing a rescuer'."

"He was thanking us for allowing him to go back to a place where he used to find his calling. He would help people and save people but he hadn't been able to do that since 9/11. He was now able to do that within the app. That was an incredible moment."

It's also a moment that makes you realise that no matter how tough things get, you are not alone.
Wisdo

You're Not Alone

VIEW