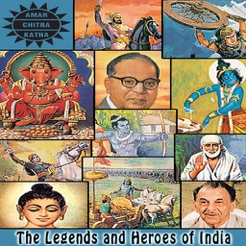 Legends and Heroes of India - Amar Chitra Katha Comics
12+
Description
** Download our "India comics" App - ***Includes FREE ACK AND DIAMOND COMICS.

link: http://tinyurl.com/IndiaComics

*** Get the EM-Amar Chitra Katha Complete collection- 192 comic bundle inapp in India Comics App at over 40% off over already sale prices for a limited time! Let your friends know :)

*** 100 comics mega bundle of all Chacha Chaudhary, Pinki, Raman etc collections at 90% off(only $9.99!)

***With India Comics App, read the comics you buy on iPad or your computer.

iRemedi's ETHERMEDIA Presents:

"A thorough treat in Mythology "
"Enjoy the world of Classical Indian Mythology in comic book format"

* * * * * * * * * * * * * * * * * * * * * * * * * * * * * * * * * * * *
Now in ETHERMEDIA 2.1 with a whole lot of new features.

122 Screens / English / Full color comic book(panel by panel)

LEGENDS AND HEROES OF INDIA

Legends and Heroes have shaped the rich tradition and culture of Ancient to Modern India imparting values, wisdom and humor from generations to generations.

In this picture book, over 120 selected legends and heroes are handpicked from over 600 rich Amar Chitra Katha titles and presented in beautiful rich cover art with accompanying synopsis about the legend or hero.

While some of the legends have their own issues released in the Appstore, some are on the way. As an introductory offer this picture book is given completely free for you to enjoy!
About Amar Chitra Katha(ACK-Media):

ACK-Media is India's leading entertainment and education company for young audiences. ACK has enthralled generations of readers for the last four decades with over 600 + Indian mythology tales with over 90 million titles sold worldwide.

ACK has partnered with iRemedi in bringing the timeless classics to the iPhone and iPod community.

About iRemedi:

iRemedi's ETHER MEDIA is a proprietary mobile content delivery technology that provides revolutionary touch media viewing. iRemedi works with rich content publishers to bring their rich content to the iPhone community.

Enjoy full color high-resolution art in an award winning and intuitive user interface.

App features:

- Panel by Panel Page view
- Tracking Page numbers
- Slider for fast page navigation in forward or reverse
- Over 7 color backgrounds
- Option to frame pages for a book feel
- Option to curl pages while changing
- Intuitive slideshow with interval settings for paced reading
- App optionally remembers last page to automatically take you where you left(no need for bookmarks)
- If original art in panel is small for portrait or landscape simply rotate iPhone to landscape or portrait. App automatically resizes to full screen to use up any extra space available.

New in ETHERMEDIA 2.0:

- Zoom as required to explore art. Double Tap to zoom or unzoom. Pan as required at any level of zoom.
- Full web-browsing of ACK and ETHERMEDIA sites, Social networking pages of ETHERMEDIA on Twitter, Facebook and blog
- Smooth Page curl animations
- Over 21 Graphic/visual help screens

* * * * * * * * * * * * * * * * * * * * * * * * * * * * * * * * * * * *
SPECIAL SALE EVENT:
- BUDDHA TRIPLE DIGEST
- GITA+TALES OF ARJUNA DOUBLE DIGEST
- ALL TINKLE TITLES AT HALF PRICE TO INDIAN MYTHOLOGY ONES

New Releases:

- Sons of Rama
- Albert Einstein
- Funny Folk Tales

All Time Favorites

- Buddha
- Mahabharata
- Folk Tales
- Krishna
- Ganesha
- Dashavatar
- Tales of Shiva

Other TINKLE Collections:
- Suppandi
- Shikari Shambu
- Anu Club

Other Comics:
TRIBORO TALES - "An Eclectic-slice-of-life-look at love in the millenia. A NewYork-urban dramedy in a modified Manga artstyle that keeps you engrossed." - First issue free!

Other iRemedi Games:
PICZEE PRO - A Cool and Fun Photo Jigsaw Puzzle

Other products from ACK:

eComics to Audiobooks at http://www.amarchitrakatha.com
* * * * * * * * * * * * * * * * * * * * * * * * * * * * * * * * * * * *
Fixed compatibility issues with iPad and iOS4.
A huge disappointment
I gave it 1 star since I couldn't give it any lesser....terrible app, shockingly bad UI, ease of use, help file etc etc One would expect a popular title like ack to be available though a better developed app, having second thoughts of wanting to read ack content on my iPad itself.
Information
Provider

iRemedi Corp

Size

56.2 MB

Category

Compatibility

Requires iOS 3.0 or later. Compatible with iPhone, iPad and iPod touch.

Age Rating

12+

Infrequent/Mild Sexual Content and Nudity

Infrequent/Mild Cartoon or Fantasy Violence

Copyright

© 2009, iRemedi Corp.

Price

Free
Supports
Family Sharing

Up to six family members will be able to use this app with Family Sharing enabled.