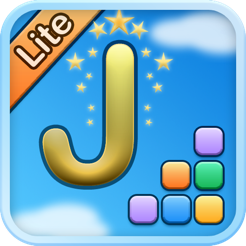 Descrizione
----------------------------------
Check out Jumbline 2 Available now with
New Features, Extra Games, and Much More!
----------------------------------

Whether you are a passionate philologist, or a novice pupil on a road of self-betterment and time swizzling fun, Jumbline™ will tantalize your senses in all the right places.

Jumbline is a familiar and fantastic word puzzle that will challenge your speed, your agility, your pattern recognition, and your spelling prowess, as you try and find all the possible words within a set of letters. Shuffle the letters, jumble the blocks, mix'em, find them, underline them!

★ REVIEWS ★

"I'd like to thank you for making the BEST word game on the App Store (and best variation of 'Text Twist' out there)." - Saroj M., one of our fans

"with this game you've got what I consider to be a better version of the classic game." - appVersity.com

"It's such a simple and effective control scheme that it's surprising that no one has thought of it before." - darkzero.co.uk

"With its smart design and pick-up-and-play appeal, Jumbline is a must for fans of this genre" - CNET.com

★ HIGHLIGHTS (for Jumbline Lite) ★

- The first revolutionary underline touch interaction
- Beautiful and clear visuals and sound
- Thousands of puzzles for eons of fun
- Built in dictionary lookups!
- Exciting word list based on the Scrabble dictionary
- Save and Resume where you left off
- Turn off sounds and play your own iPod music
- Hall of Fame
- Facebook integration: show off your accomplishments on your Facebook wall

Visit www.Jumbline.com for gameplay footage.
- Fixed a bug where score and level # was not shown correctly in a resumed game
- A number of stability and performance improvements
I like it !
It's quick and funny: and good for your memory too !
Informazioni
Fornitore

Brainium Studios LLC

Dimensione

4.8 MB

Categoria

Compatibilità

Richiede iOS 3.0 o versioni successive. Compatibile con iPhone, iPad e iPod touch.

Età

4+

Copyright

© 2009 Brainium Studios

Prezzo

Gratis
Supporto
"In famiglia"

Se "In famiglia" è stato attivato, fino a sei membri della famiglia potranno usare l'app.