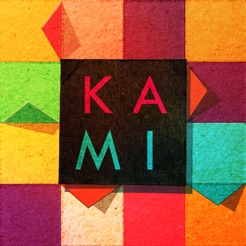 Descrizione
A beautiful and relaxing paper puzzle game.

**Best of 2013** Mac App Store
**Editor's Choice** Mac App Store
**Nominated** SXSW 2014 Gamer's Voice Awards

# 1 Best New Game, Mac App Store
# 1 iOS Puzzle Game in 12 countries, now arrives on Mac in beautiful Retina resolution!

KAMI is deceptively simple: fold out coloured paper to fill the screen in as few moves as possible.


"Beautiful aesthetics, soothing sounds and deceptively challenging puzzles" - Macworld

"KAMI feels fresh and unique. This is a game that gives you space to breathe, never harrying with time limits or catastrophes" - PocketGamer

"Highly polished... a unique art style that isn't just for show, but actually enhances the gameplay" - Apple'N'Apps

"Gloriously well-made...Stylishly challenging" - 148 Apps

"Elevated by its top-notch production values and visual splendour" - AppSpy


Relaxing and easy to pick up, you'll soon find yourself deep in contemplation to perfect each puzzle.

Created by State of Play, famous for their handcrafted aesthetic, KAMI has been created with real paper in an elegant Japanese theme.

KAMI is tactile, engaging and stunning to look at.

► 36 unique puzzles + updates with more!
► Beautiful handcrafted Japanese look, created using real paper
► Calming and elegant soundtrack
► Created by State of Play, creators of the award-winning papercraft game 'Lume'
New with 2.0 - 36 brand new free levels!
New with 2.0.1 - Fixed bug copying progress from older versions.
Valutazioni e recensioni
rompicapo bellissimo!!!
Il gioco merita davvero, peccato che i livelli siano ancora pochi, ma spero vengano aggiornati a breve in quanto in un pomeriggio ho finito il gioco tutto perfetto.
Animazione della carta meravigliosa, musiche ed effetti ottimi. Amo questo genere di giochi e fra quelli che ho giocato posso dire che questo è quello che mi è piaciuto maggiormente. Aspetto con ansia nuovi livelli da giocare.
bello !!
E' un gioco molto originale, fluido e ben fatto , in particolare l'animazione e il "fruscio" della carta.
Non ci sono molti livelli ma per risolverli nelle mosse previste ci vuole un po' di attenzione.
Un piacevole passatempo davvero!!
Informazioni
Fornitore

State of Play Games Ltd

Dimensione

57.3 MB

Categoria

Compatibilità

OS X 10.6 o versioni più recenti

Lingue

Età

Classificazione: 4+

Copyright

© State of Play Games Ltd

Prezzo

5,49 €
Supporto
"In famiglia"

Se "In famiglia" è stato attivato, fino a sei membri della famiglia potranno usare l'app.