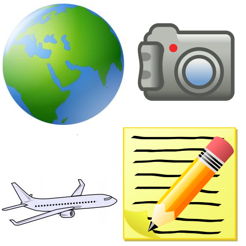 Descrizione
* Record the story of your vacation with text, pictures and maps and recordings

* Export pictures to Facebook with GPS info (including a link to maps), comments and recordings

* Zoom and pan to capture what you want within a picture.

* Use Box.net to transfer your pictures to the iPad and view a slide show

This is the tool you need to organize the pictures you take on your vacation. When you take a picture, instead of using the iPhone's camera application, use Travel Diary. The time and location of each picture is automatically saved. Comments and recordings can be added to each picture. In addition, general comments can be added not attached to any picture. These comments can be used to describe your activities each day. They also get time and location stamps.

When you are done with your travel, you will have the complete story of your vacation told with words, pictures and maps. You can browse through your pictures either from an interactive list or in full screen mode. Just press a button from any picture and a map will appear showing the location where it was taken. You can generate an HTML page which can be placed on your web site or you can export your pictures and comments (and location and time stamps) to Facebook. You can also email your pictures to friends. If you add more pictures after exporting, Travel Diary remembers what was already exported and only exports the new pictures.

Travel Diary is compatible with iPhone OS 3.0 and later.


1) You can now record audio with your pictures
2) iPad support-you can upload your pictures to Box.net from your iphone and download them onto your iPad.
3) The iPad supports a slide show feature which can be displayed on either the iPad itself or an external display
4) Travel Diary now supports the emailing of individual pictures or the entire chapter
5) Numer bug fixes and improved Box.net performance
2*
App un pó macchinosa e quando allego una foto dall'album
si vede con una definizione penosa!
Per adesso 2* , dopo l'aggiornamento si vedrà
Non male
Non male per essere gratis. Esegue bene il suo lavoro. Unica mancanza: non è possibile uploadare video ma solo foto.
Purtroppo mancano alcune funzioni indispensabili per iPad
Ottima idea, appena me ne hanno parlato l'ho scaricato subito. Tuttavia su iPad ha un grosso limite, necessita di una applicazione esterna per acquisire le foto box.net. Un suggerimento per gli sviluppatori: aggiungere la possibilità di caricare le foto da album oppure dal connettore apposito in modo da poter usare la macchina fotografica per fare le foto e alla sera scaricare le foto su iPad e prendere appunti. Non sempre quando si viaggia ci sono reti hsupa che permettono di trasferire i dati in modo veloce e conveniente e poi le foto non sempre sono fatte solo da cellulare! Aggiungete queste funzioni e 5 stelle ci saranno sicuramente!
Informazioni
Fornitore

Kenneth roe

Dimensione

2.3 MB

Categoria

Compatibilità

Richiede iOS 3.0 o versioni successive. Compatibile con iPhone, iPad e iPod touch.

Età

4+

Copyright

© 2009, Roe Mobile Development

Prezzo

Gratis
Supporto
"In famiglia"

Se "In famiglia" è stato attivato, fino a sei membri della famiglia potranno usare l'app.