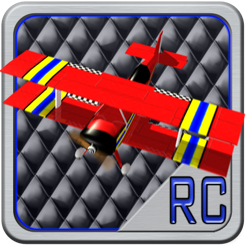 RC Plane
4+
Gratis
Biedt in‑app aankopen
iPhone-schermafbeeldingen
Beschrijving
Download the @FreeAppADay Store App and wish for more top rated paid apps like RC Plane to become FREE for a day! Follow us on Facebook.com/frozenpepper!

Fly and RC Plane through a realistic country side scenario.
Realistic flight, and great looking 3D graphics will amuse every kind of player.

Fly through a Barn, a windmill and some misterious spots sparse trough the scenario.

Perform stunts with your RC Plane!


- Now with in-game store to purchase game modes and rc planes.


Game features:

- 2 realistic RC planes + 5 more to purchase in-app

- 3 and 4channels configurations

- Trainer and acrobatic plane (plus jet, 4ch trainer, ww2 bomber and fighter planes available for purchase)

- 3 camera angles:
° Follow : follows plane from close behind giving player a great view angle and control.
° Fixed : fly your RC Plane as in you would in real world. Fixed camera from various spots around the scenario to simulate the REAL EXPERIENCE.
° Inside : flight your plane from an inside camera.

- Both touch and accelerometer controls

- Accelerometer calibration options

- Compass to guide player

- Mini map of the scenario

- Much more....
- Fixed crashing due to memory on older devices
- important fixes and tweaks to plane physics engine
- fixed bug that prevented from purchasing "Air Racer" pack on newer devices
- other....

Beoordelingen en recensies
Deel 2
Beter download je deel 2 met:

Multyplayer dogfight
Meer vliegtuigen
Grotere maps
Gewoon beter

Dus luipaarden, ga deel 2 downloaden
Leuk spel als je je verveelt
Leuk spel als je je verveelt. Maar de besturing is soms glichy, vooral als je land gaat ie soms zomaar opzij ofzo. Het is nog leuker als je alle modellen koopt en de racing pack.

Maar het is echt een spel GEEN SIMULATOR!!!

Verder weet ik dat versie 2 nog beter is dus als het kan, download 2!
Super app
Its à super app i got all THE planes and i make my own missions
Informatie
Provider

Ottavio Radicati di Brozolo

Grootte

21 MB

Categorie

Compatibiliteit

Vereist iOS 3.0 of nieuwer. Compatibel met iPhone, iPad en iPod touch.

Leeftijd

Beoordeeld 4+

Copyright

© 2011 FrozenPepper, iDev2, Ethervision

Prijs

Gratis

In-app aankopen

Jet Plane

€ 1,09

Bomber Plane

€ 1,09

Fighter Plane

€ 1,09
Ondersteunt
Delen met gezin

Tot zes gezinsleden kunnen deze app gebruiken als Delen met gezin staat ingeschakeld.