BEHIND THE SCENES
The teens who watch YouTube for a living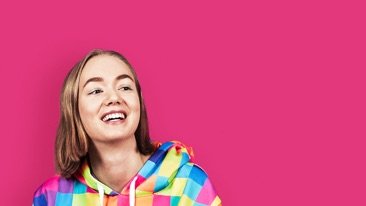 Neverthink: Handpicked videos
Instantly find what to watch
VIEW
Neverthink is internet video sliced up into themed, curated channels. Think of it as ambient TV – the sort of thing you stick on when you're cooking, doing chores or you just don't really know what to watch.

And to populate these video feeds, the editors at Neverthink's office in Helsinki, Finland literally watch YouTube videos all day.

Noa Junno (18) curates the Lifestyle, Creativity and Millennial AF channels. "I always loved watching way too many of these videos and now I get to watch them every day for my job!" she tells us.
Junno estimates that she watches a few hundred videos a day. "And that's only the ones for work," she continues. "So after watching those there's always time for more videos during my free time…"

Maija Mäkelä (16) is the youngest Neverthink curator. She mostly works remotely, and only for a few hours a day. She runs the Learn Something and Making Stuff channels.

"It really doesn't feel like working at all," she tells us. "I guess everyone takes a little time for themselves after a school day and spends it watching YouTube or Netflix or whatever. That's basically what I do, but I just get paid for it."
So what do these editors look for in a good video? They need to be short, interesting, surprising and show solid production values – any old shaky-cam nonsense won't make the cut.

Sanni Leppä (17) is in charge of the AWWW channel, and is an expert on all things adorable. "I aim to get high quality videos with some cute music in the background," she tells us.

"And maybe a cute animal that isn't so common – baby elephants and red pandas are my favourites!"
It sounds like most teenagers' dream job – and it certainly gets a reaction when these Neverthink editors tell people what they do for a living.

"I guess people find it kind of cool but they're right – it is cool," says Mäkelä.

Leppä adds: "The reactions usually go from 'What? You're lying,' to 'You're so lucky' – and then finally: 'Can you get me a job there?'"

So the next time you're overwhelmed by the choice of things to watch, you know what to do. Sit back, pick a channel and let Junno, Leppä, Mäkelä and their pals do the rest.
Neverthink: Handpicked videos

Instantly find what to watch

VIEW