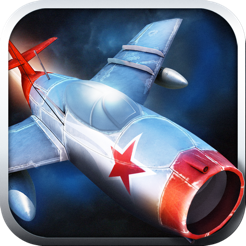 Sky Gamblers - Cold War
12+
59,00 kr
Erbjuder Köp inuti app
Beskrivning
THE NEXT GENERATION OF AIR COMBAT GAMING IS HERE!

With an extensive single player campaign and a huge set of multiplayer modes, the non-stop action will keep you at the edge of your seat!

Become the supreme lord of the skies in the latest Sky Gamblers title: Cold War!

Go back in time with this great title and be part of unwritten history and covert operations. Enjoy the charm and power of the Jet Fighter domination race and master over a dozen airplane models.

CONSOLE QUALITY GAMING!
Unparalleled visuals, special effects and audio including: bump mapping, atmospheric scattering, volumetric clouds with realistic lighting, sun glare, day & night transitions, God rays and more!

EXPANDING RANGE OF SINGLE-PLAYER MODES
After the campaign, expand your skills with Dogfight Missions, Survival, Free for All, Team Deathmatch, Capture the Flag, Defend the Base and more to come in the future!

UNRIVALED COLLECTION OF ONLINE MODES
Invite your friends to play online with cooperative and competitive modes available: Survival, Free For All, Team Deathmatch, Capture the Flag and Defend the Base plus Free Flight and Game Center duels!

IMMERSIVE GAMEPLAY
Take off and land on landing strips and carriers. You will fly in fully recreated cities with realistic weather, accurate atmospheric scattering with aerial perspective and highly detailed planes with interactive cockpits.

CUSTOMIZE YOUR GAME AND ELEVATE YOUR SKILLS
Sky Gamblers: Cold War is designed for players of all generations and skill levels, whether veteran or novice. You can even leave the flying to the auto-pilot while you fire missiles and issue squadron commands!

GAME CENTER, AirPlay and iCloud
Since this all takes place on Apple devices, iCloud support has been integrated so players can save and share progress across devices while AirPlay allows them to use an Apple TV to play the game on a large display. Climb the Game Center leaderboards, challenge friends and unlock all achievements.

Please send us your impressions and suggestions, help us identify bugs. We want to make your gaming experience the best you've ever had. Please visit our support site at www.atypicalgames.com/support.

Like us on Facebook: www.facebook.com/skygamblerscoldwar
Follow us on Twitter @atypicalgames

Sky Gamblers: Cold War is compatible with AirPlay and Apple TV.

The persons, things, and events shown in this game are fictional, and are not representations of any actual person, thing, or event, and any similarity is coincidental. No manufacturer or other person or entity associated with any actual vehicle, object, service, or product has endorsed, authorized, or approved this game, or is in any way associated with Revo Solutions SRL, Atypical Games LLC, or any other authorized publisher or distributor of this game.

To play online requires a wi-fi or internet connection.
fixed bugs
added 4 new planes
improved graphics
Betyg och recensioner
Betyg
Helt enkelt genialt!
Information
Leverantör

ATYPICAL GAMES LLC

Storlek

842.8 MB

Kategori

Kompatibilitet

OS X 10.7 eller senare

Språk

engelska, franska, förenklad kinesiska, italienska, japanska, koreanska, portugisiska, ryska, spanska, tyska

Ålder

12+

Sporadiskt förekommande/nedtonad simulerat hasardspel.

Sporadiskt förekommande/nedtonat tecknat eller fantasy med inslag av våld.

Copyright

© 2013 Revo Solutions s.r.l.

Pris

59,00 kr

Köp inuti app

Starter Mega Pack

25,00 kr

Plane Paint Customization

25,00 kr

RFU14

25,00 kr
Support
Game Center

Utmana vänner och kolla resultattavlor och prestationer.

Familjedelning

Upp till sex familjemedlemmar kan använda den här appen när Familjedelning är aktiverad.