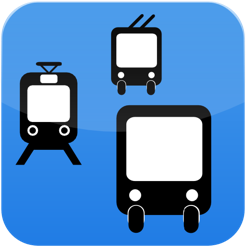 Description
Už nikdy nezmeškaj žiadny spoj! Tvoj osobný sprievodca mestskou hromadnou dopravou. Cestovné poriadky, vyhľadávanie spojení, zobrazenie najbližších zastávok na mape - všetko rýchlo dostupné z tvojho telefónu.

Vlastnosti:
● cestovné poriadky pre MHD Bratislava,
● rýchle zobrazenie aktuálnych odchodov z najbližších zastávok,
● zobrazenie zastávok na mape,
● prehľadné zobrazenie cestovných poriadkov a trasy spoja,
● vyhľadávanie spojení.

Privítali by ste podporu pre ďalšie mestá, medzimestské spoje, železničnú dopravu? Chceli by ste nové vlastnosti? Povzbuďťe nás a napíšte nám na itransit@itransit.sk alebo navštívte našu stránku www.itransit.sk. Ďakujeme!

Podporili nás:
● Fakulta informatiky a informačných technológií, STU Bratislava (www.fiit.stuba.sk/iphone),
● Nadácia Tatrabanky prostredníctvom programu E-talent (www.nadaciatatrabanky.sk),
● Software Partner, s.r.o. (www.swp.sk),
● Slovenská vedecká grantová agentúra prostredníctvom grantu VEGA-1/0848/08 (www.minedu.sk),
● Inprop, s.r.o. (www.inprop.sk).

★★★★★★★★★★★★

Never miss a bus again! Your personal navigator in the jungle of public transportation. Timetables, trip planner, the nearest transit stops shown on the map - everything easily accessible from your phone.

Features:
● timetables for public transport in Bratislava, Slovakia,
● get quick overview of the departures from stops around you,
● explore the map for available transit stops and other POIs,
● easily browse routes, stops and time schedules,
● get transit directions using trip planner.

Would you like to see rail, intercity services or maybe your city supported by iTransit? Would you like to enjoy other features? Just let us know, we love to hear your feedback! You can write us directly on itransit@itransit.sk or visit our page www.itransit.sk. Thanks!

We were supported by:
● Faculty of Informatics and Information Technologies, SUT Bratislava, Slovakia (www.fiit.stuba.sk/iphone)
● Foundation of Tatrabanka through program E-talent (www.nadaciatatrabanky.sk),
● Company Software Partner (www.swp.sk),
● Slovak Scientific Grant Agency through grant VEGA-1/0848/08 (www.minedu.sk),
● Company Inprop (www.inprop.sk).
Rozšírené možnosti plánovania spojení
Anglická lokalizácia
Celková optimalizácia
Podpora pre iOS 3.1.2
Viaceré menšie opravy
★★★★★★★★★★★★
Enhanced trip planner
English localization
Overall optimization
Support for iOS 3.1.2
Several minor bugfixes
Ratings and Reviews
Trip planner
Je to super napad, len neviem ako ostatnym, no mne nefunguje Trip Planner. Stale pise ze "No connection", pritom sam manualne najdem spojenie, ktore nastaveniam vyhovuje.
Planner not working in last update!
Planner not working in last update!
Skoda
Na ipode 2G MC to padá na začiatku.. Najprv by sa mal urobiť fix, potom offline režim, a nakoniec dorobiť aj iné mestá :-).. Potom by som to bol ochotný aj kúpit´ a dať 5*
~~~~~~~~~~~~~~~~~~~~~~~~~~
on my ipod touch 2G MC version isn't working.. First you should make a fix, next offline mode, and then more cities :-).. If u will do this, I'll buy it and I'll rate 5*
Information
Provider

Apptives, s. r. o.

Size

2.1 MB

Category

Compatibility

Requires iOS 3.1.2 or later. Compatible with iPhone, iPad and iPod touch.

Languages

English, Slovak

Age Rating

4+

Copyright

© M. Brandobur, M. Hrdina, M. Jacala, R. Svajdlenka, M. Cernansky

Price

Free
Supports
Family Sharing

Up to six family members will be able to use this app with Family Sharing enabled.