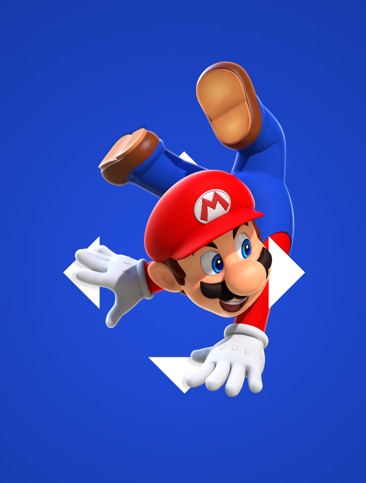 GET STARTED
Game essentials: Super Mario Run
We take a closer look at the App Store's must-play games.
Super Mario Run
Control Mario with just a tap!
VIEW
Whenever a sporting superstar transfers to a new club, the excitement of the move is always tinged with doubt. Can they recreate their best form?

No such concerns here: Super Mario Run is a dream debut for a gaming icon, capturing everything that's made Mario such a beloved figure for the last 30 plus years. In fact, Nintendo's mascot feels so immediately at home that you'd never believe it was his first time on iPhone.
Nintendo achieves this with a brilliant blend of old and new. If you've ever played a Mario game before, you'll know his weight and momentum, the arc of his jump – all are recreated perfectly here, and feel instantly familiar. It's like a comfort blanket for fans, and newcomers will be equally delighted to get to know him – within moments you'll understand why he's so popular. He's just so much fun to control.
You might notice a swagger in Mario's step, and that's because he's learned a few new tricks. He runs automatically for a start, letting you focus on those athletic jumping skills of his. And those waddling Goombas aren't the threat they once were: Mario will hurdle them on his own, though a tap as he clambers over them will see him push down, using them as a springboard while flattening them in the process.
The game's Tour takes you on a whistle-stop journey through the Mushroom Kingdom – from caves to castles to the clouds above. Super Mario Run lets you see these classic locales through fresh eyes: because the game is fixed to portrait mode, you'll spend as much time going upwards as sideways, with a natural emphasis on reaching the kind of heights Mario has rarely scaled before.

More importantly, it lets you control Mario with one hand, letting you play even when you're standing up on the train.
These crisp, colourful courses come with a three-tier challenge. Beginners are invited to collect five pink coins; get those, and five purple ones will appear in harder-to-reach places. Then come the black coins, and nabbing all five of these will really test your skills.

Each course starts out as a light-hearted romp and eventually becomes a thrilling tightrope walk, with every roll, wall-kick and jump requiring precise timing if you're to grab these shiny bonuses in a single run.
If you're after something more easygoing, Remix 10 is the perfect quick-fix game type. These miniature courses pack a lot into very little: they're over in a matter of seconds, letting you whizz through several stages even if you've only got a minute or two to spare. And you'll keep going even when you fail to complete a level: Nintendo kindly lets you play on so you can keep making steady progress towards your ultimate goal of rescuing Princess Daisy.
Finally, there's the friendly competition of Toad Rally, where you race online rivals to pick up as many points as you can against the clock.

Like the other modes, it subtly teaches you to become a better player: if you're facing a Mario expert, you can follow your opponent's path to see where they're getting the big points, giving you the edge for your next go.

Everything you earn in all three modes lets you buy and unlock new decorations and buildings for a delightful kingdom builder, which lets you transform a simple plot of land into a flourishing realm of your own design.
After you've spent some time personalising your kingdom, you'll be itching to jump back in for more – whether you're blitzing a few remixes, or showing off to your friends by obliterating their scores on Toad Rally.

Either way, Super Mario Run is a real achievement: it's a Mario game unlike any other, yet one that reminds you what made him so special in the first place.
Super Mario Run

Control Mario with just a tap!

VIEW