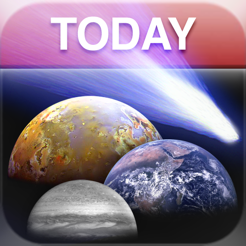 APODViewerLite - Astronomy Picture of the Day
4+
Free
Offers In-App Purchases
Description
"…for astronomy enthusiasts and layman alike..for anyone interested in some daily encouragement brought by the beauty of the heavens, download this now!" - US App Store Review

APODViewerLite the free version of APODViewer, provides an iPhone/iPOD Touch friendly interface to NASA's Astronomy Picture of the Day Website.

Each day NASA's APOD presents an astronomical image (also animations & movies) along with a description of the "picture" written by a professional astronomer. These images range from pictures of The Planets, Galaxies, Nebula to astronomical phenomena here on Earth.

If you are an astronomy student, an enthusiast or just want to view beautiful images and discover and learn about the mysteries of the solar system and universe around you, then APODViewer is for you. Never has astronomy been so easy and fun.

Don't forget to rate 5 stars. Ratings help us to provide new functionality and updates. Rate it now.

Feature rich with unique functionality compared to other apps, in addition to showing the current day's APOD image, APODViewerLite provides:

*********** Highlights Include ***********

• Display details of APOD image by cliking the image on the main view. In this mode double touch (or pinch) to zoom and scroll the image to reveal its detail.

• Read a detailed explanation of the image including clickable links to other web pages, all from within APODViewer

• Display APOD Movies and animations directly from within the app - (unique functionality)

• Select an APOD by date from over 5000 published since 1995

• Random APOD - just give your iPhone/Touch a quick shake to display a new random APOD

• SAVE APOD image to your devices Photos app (where you can use it as Wallpaper or sync back to your machine).

• Portrait and landscape mode

• AD Supported (APODViewer provides an ad free version)

Want even more? Then check out APODViewer which provides the following additional functionality:

• Ad free

• Off line viewing of your favourite APODs (no network required)

• Save the APOD as a PDF document to read later in an app like iBooks (or other app that can read PDFs)

• Email an APOD to a friend - includes image and explanation text

• Search for specific APODs from the over 5000 available i.e "Mars" Saturn", "ISS", etc.

• Save and store your Favourite APODs to your Favourites List

• Save the "large" highest resolution APOD images to your Photos app

NB If video does not load, it may be a restriction defined in the video itself. In these rare instances, we recommend using the Action button (bottom left), choosing "Show Original Website" and playing the video from there.

APODViewerLite is brought to you in association with http://observatorio.info, the official Spanish translators of NASA's Astronomy Picture of the Day. Spanish translation copyright http://observatorio.info

APODViewerLite requires an internet connection (GPRS or 3G recommended as the images can be large)

Permissions & Copyrights:

Explanation text written by Robert Nemiroff and Jerry Bonnell

All the images displayed on the APODViewer are credited to the owner or institution where they originated. Some of the images are copyrighted and to use these pictures publicly or commercially you must write to the owners for permission.

Help & Support:

Twitter: @APODViewer
Email : support@sendmetospace.co.uk
Ratings and Reviews
Awesome space
I really enjoy this app and learning about a world outside our earth! So entertaining and educational at the same time! If you love space you will live this app's pictures, links to learn about the each days post, and the information you thought you would never need!
Loses stars!! Ads are intrusion. Better choices.
This WAS wonderfully done in many ways. It WAS ad-free and had a much better interface than many other APOD viewers.

But now the ads clutter the bottom of the screen and the initial image is much too small. (You can double tap it to have it fill the screen, so that's good, but a larger image is needed to begin with.). The fonts and labels are in garish, clashing colors. The screen is far too busy

Adding ads to a previously ad-free app is dirty pool.

Put out a new app with more features and, if you must, include the ads-- or, even better, because ads are almost always an intrusion, just release an advanced app at a small price.

To their credit, they did get rid of the creepy Munch-like icon, although there is now a creepy robot face behind the help text!

Much better apps WERE APOD and Twilit Sky.

-----------------
Prior Review Notes

(I deleted the new version of the app after seeing the ads, so I don't know if the things I mention here have changed.)

This free version saves the photos, but they're low-res, fuzzy. I was tempted to upgrade to the paid full version, but a review of it said it had the same problem!!

Also wish that there'd be a way of having the photo automatically resize to full screen without having to pinch zoom! You should be able to tap the photo and it would fill the screen.
TRULY AMAZIN BEAUTY!
Anyone can take a great picture, even somehow using their iPhone, but to see such real, natural, time relevant pictures that move your heart as no other can, you must see it to believe it. Clarity, Beauty, and right from the source.

I recommend this app to any and all, whether you are a lover of the galaxies, science, astronomy, or even if you need a little nudge saying you're not alone. This is the app for you.

Other than a picture of a newborn child, a long lost friend or family, no other has this affect. It has the Awe Factor, and I will be sharing with all my friends and loved ones. It's one app you can't do without!
Information
Seller

Michael Kaye

Size

3.4 MB

Category

Compatibility

Requires iOS 4.0 or later. Compatible with iPhone, iPad, and iPod touch.

Languages

English, Spanish

Age Rating

4+

Copyright

© 2008 - 2011 Michael Kaye

Price

Free

In-App Purchases

Ad Removal

$0.99

Upgrade to APODViewer

$1.99
Supports
Family Sharing

With Family Sharing set up, up to six family members can use this app.