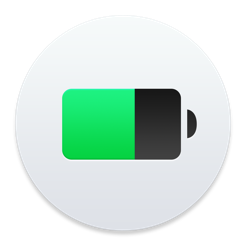 Battery Monitor: Health, Info
4+
Keep an eye on your battery
Description
- Over 1 MILLION downloads worldwide - Thanks for your amazing support!
- Featured worldwide by Apple in "INVALUABLE UTILITY" and "NOTIFICATION CENTER WIDGETS" -

Battery Monitor helps you to easily access and monitor battery information from your menu bar.

Main features:
- Quick battery overview nicely displays the most important health and status information of your battery
- Charge percent and time in menu bar
- Detailed battery information
- Configurable low and full battery alert
- Great looking themes

We'd like to know how to improve our apps, contact us at Rocky Sand Studio http://www.rockysandstudio.com
Excellent Execution
This app has all the information you will ever need, about your battery. This is an absolutely incredible app…being that it is a FREE APP. I see true potential in this app and hope it succeeds in developing as an app and developing consumers to healthier battery habits. I am using a MacBook Pro as the device I will be experimenting this app on. A poor performing battery obviously means a poor performining computer. Some people buy a new computer, but others can pass with buying a new battery for their computer to increase performance. It would be interesting to know lifetime stress test on replacement batteries. (Logs of each battery profile)
Easy to use, simple displays
This battery monitor is a very easy and simple app. By simple, I don't mean low quality or useless. It has all the info you need and keeps the display simple.

I am trying the coconutBattery Plus app which has 'way more details about the health and status of you Mac battery as well as any connected IOS device.

Try out the Battery Monitor first as it may be plenty for your needs. I've had it for over 2 years.
Missing One Crucial Feature: a change in state alarm.
My usb c thunderbolt charging cable occaisionally pulls out slightly while charging terminating my charge prematurely. If I start charging late in the day, I like my charge being complete before turning in for the night. If the charging cable gets tugged out slightly before my charge is complete I might be ready to turn in and am left with one of 3 choices, 1). leaving the charge interrupted, 2). staying up late until it completes, or 3). letting it charge overnight.

It would be nice if an alarm existed marking change of state between charging and not charging . That way a prematurely terminated charge could be corrected in a timely manner continuing the charge without resorting 1 of the 3 less than ideal choices above.
Information
Seller

Rocky Sand Studio Ltd.

Size

4.6 MB

Category

Compatibility

OS X 10.10 or later, 64-bit processor

Languages

English, Simplified Chinese

Age Rating

4+

Copyright

© 2014 Rocky Sand Studio Ltd.

Price

Free
Supports
Family Sharing

With Family Sharing set up, up to six family members can use this app.