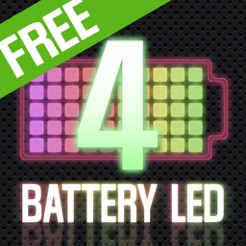 Description
Battery LED pro is the best battery app for the Apple devices.

★★★★★★★★★★★★★★★★★★★★★★★★★★
✔ REVIEW:
• Battery LED Pro accomplishes it's job of showing you exactly what you need to know but it looks so good while doing it.
- Video : http://bit.ly/3uNHre

• Informative and beautiful by violet_yoshi
The first thing I said when I opened the app was, "Wow! This is beautiful!" I also would reccomend this to people who are fans of vintage Epcot Center, it reminds me of the kind of displays they used to have.

• Wow~~~ by LihToM
It shows all of my iPod/iPhone. This app is really awesome. I shocked when I see this UI. Really clean grapic. Easy and simple. You will like this app. Must buy! Just buy!

✔ NOTE:
• A clear, simple display will show you the amount of battery you have left.

• Displaying remaining time according to the time information from Apple Store(Technical Specifications). The estimated times are estimates only, results may vary.

• Battery fully charged alarm
It is not fully charged although the battery level is saying 100%.
Please check the status whether it is saying full or not.
After 100%, additional 40 minutes will be required to be fully charged.

• Battery status log
Any changes to your battery status will be recorded but only when the application is running
You will be able to read the record which application takes how much amount of battery or how long it takes to be charged.

• This app requires iPhone OS 3.0!

✔ SUPPORT:
• BatteryLed Pro is the first and most accurate battery monitoring application.

• It displays the hours and minutes remaining of:
-Recharge Time
-Standby Time
-Phone Talk Time (2G, 3G)
-Internet on 3G, WiFi
-Video Playback
-Audio Playback
-GamePlay Time
(Battery consumption will depend on the game type.)

• Supported Model:
iPod 1Gen, 2Gen, 3Gen, 4Gen
iPhone 1G, 3G, 3GS, 4

• 2.2.1 Update - Dec/09/09
- You can adjust condition of the battery of your device to get more acurate time information.
- New Option : The alarm will go off when battery is fully charged.
- Current time will be shown on the upper side of the screen.

• 3.0.0 Update - Jan/09/10
Battery status log.

• Support Languages : English, 한국어, 日本語, Français, ltaliano, Deutsch, Español

★★★★★★★★★★★★★★★★★★★★★★★★★★
• Email requests to : help@abluewind.com
Too inaccurate
The colors and graphics are good. However the usefulness of the app are worthless. Tells me I have forty two minutes of games when my battery is at eight percent. Tells me I have a half hour of talk time when I have maybe ten minutes at best. I can guess better at what I have left versus what this tells me. This app hasn't had an update in years. It's time to wake up developers and see the light and complaints from your customers, not just collecting money from ads.
Very cool app
Brings back great memories from my old iPod 3rd gen Now I have the iphone 5 this app is not updated for it yet, however I will be expecting them to update this gorgeous app soon! :D

Love it! 😀
Still works
Still works showing charge time on my iPhone six plus. The info is na.
Information
Seller

BLUE WIND

Size

6.9 MB

Category

Compatibility

Requires iOS 3.1.3 or later. Compatible with iPhone, iPad, and iPod touch.

Age Rating

4+

Copyright

© blue wind

Price

Free
Supports
Family Sharing

With Family Sharing set up, up to six family members can use this app.