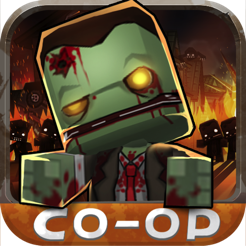 Call of Mini - Zombies
17+
$2.99
Offers In-App Purchases
Description
A SMALL TOWN INFECTED... UNDEAD ROAM the STREETS... LOCK 'n' LOAD and come out GUNS BLAZING in HD GLORY!

★★★★★

A strange virus has taken hold in a small town; one after another, the town's people have succumbed, losing their appetite for food and gaining one for BRAINS.

A few brave men hold out against all hope, machine guns and rocket launchers their only aid. Will they survive another day?

That's up to YOU.

★★★★★

✓ Amazing 3D VISUALS
✓ Fast & furious RUN-AND-GUN ACTION
✓ Awesome WEAPONS in the ARMORY

★★★★★

✓ 8 immersive & expansive MAPS
✓ 16 powerful & unique WEAPONS
✓ 12 awesome AVATARS with special STRENGTHS
✓ 17 totally terrifying ENEMY ZOMBIE BREEDS
✓ In-App purchases available

★★★★★

MORE UPDATES COMING SOON!

★★★★★

▶ http://twitter.com/TRINITIgames
▶ http://facebook.com/TRINITIgames
No quit button :/
Once I can exit the game without having to shut off my computer to close the window, I will give it 5 stars. :( Did anybody else have the same problem? Could you ever find an exit button on the main menu or something like that? I pressed all the buttons on my Mac that goes out of full-screen allowing you to close it, but for this game it didn't let me. (f3 and f4)

Edit: You have to press Command + Q. It still needs a quit button. :/ Great game, though :D
Good game: Has Potential
Now I'm no expert but I can tell when a game has potential.

Music: Repetitive, boring, a bit annoying. 3/5
Gameplay: No plot or storyline, just passing through Day stages: repetitive, but still fun if you're into the endless stages type of game (which I'm not). However, the weapons are nice, and you have a wide variety of good looking weapons and characters that you can unlock and choose from. Also, there's co-op mode, so I'll give it four stars. 4/5
Graphics: Cute and cartoonish, hence call of MINI. The graphics suit it's purpose. 5/5
Overall: Nice game with greate potential. 4/5

Pros:
-Unlike most games, you dont have to pay any REAL money. You can unlock everything with in-game cash. However, you CAN buy in-game cash for real money.
-There's co-op mode. Playing with friends or people online is fun.
-Overall great graphics.
-Smooth gameplay.

Cons:
-Some items are pretty expensive. Like another reviewer explained, it costs $9.99 to buy 15 seconds worth of flamethrower ammo. That's a bit crazy if you ask me.
-Co-op mode needs a chat, in both the lobby and the co-op battle.
-More people need to buy this game! I'm sick of waiting 15 minutes to join a co-op battle.
-The music needs some… refining, please.
-There's no quit option. I know that you can press Command+Q, but some other Mac users don't even know that.

This game has a lot of potential. I'm looking forward to seeing it progress.
A great iOS game finally on the Mac!
Well it started on my iPod touch 3rd generation when I got this game for free when it was free for a day. I got up to day 22 with the doctor character, which regenerates HP (Health) and is also useful! Then I got my 4th gen iPod touch and I was playing this game ever since. Now I find out that it is on the Mac App Store for 99 cents. That's a definite YES for me and good thing I still had funds in my iTunes ID. The game is awesome overall!

But here are a few suggestions for updates, hear me out:

*Cheaper In-App Purchases "Example: $150,000 for 99 cents"

*Add an ability to change the resolution to make the game look at it's finest! "Example 1920x1080 HD"

*Add VS. Mode like on iOS devices.

*Add iCloud Save Support to import data from iOS device, that'll be really cool!

Other than that, definitely well worth every penny! To everyone that bought the game so far, Play on and have fun! Co-Op?
Information
Seller

Triniti Interactive Limited

Size

76.5 MB

Category

Compatibility

OS X 10.6.6 or later

Age Rating

17+

Frequent/Intense Cartoon or Fantasy Violence

Frequent/Intense Realistic Violence

Copyright

© Triniti Interactive Limited

Price

$2.99

In-App Purchases

62.5K Cash Pack

$0.99

350K Cash Pack

$4.99

760K Cash Pack

$9.99
Supports
Family Sharing

With Family Sharing set up, up to six family members can use this app.