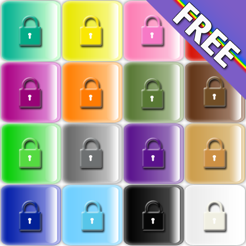 Description
Welcome to the safest place on earth where to store your passwords and any other secret/private data such as credit cards numbers and bank details.

Our is a very simple yet novel approach: ** Store you master password as colors, not letters, not numbers **

So why this should be more secure than just keeping an old classic password with letters and/or numbers?

Because the only place in the world where you can login with colors is... This app.

There's no color login in gmail, amazon, ebay or hotmail... This saves you from using your otherwise "safe" master password somewhere else in the web with the risk that if that's discovered then you'd be in serious trouble!

You'll only use your color password here, so you are guaranteed that if you keep it just for you, there would be no way for hackers to discover it by sneaking into your mailbox or zombie pc or trash bin! And if your phone got stolen then bad luck to them, there are more than 4 billions combination out of our minimum color sequence requirement (minimum length of 8), and unfortunately for them, the process cannot be automated, and in case of failure (wrong password) the system is totally silent, so hackers wont know when they made a mistake, and without knowing how long the password can be, you can be sure that they will still be there trying to break your password when the sun will explode into a supernova :)

Here's a full list of advantages:

- The only place in the world where you can use colors as a password.

- We have designed this app as a complete black box. All ports are blocked to internet/bluetooth or any communication system, they simply cannot 'talk' with this app.

- We are not sending anything anywhere, no emails, no ftp, totally secure inside the app, no data will ever leave it.

- Strong SHA256 encryption on your master password.

- Totally silent mode, you will never know how long is your password or if you made any mistake.

- Log off timer so if you leave your phone with your app running it will automatically logout for you.

- Customize your entries, add fields that you need or remove some you dont, you are in complete control of what/if you want to save.

- A nice and "usual" iPhone interface is used for your entries. It will be like adding a contact in your contact list.

- Store any kind of data, not just passwords or credit card numbers.

Free version is limited and has got ads supporting it.

All the best and thanks for your download,
the JFDP Labs team.
Fixed compatibily issues with iOS 3.0x
Ratings and Reviews
Who cares what name I use
,
So-so
A very cool concept with some flaws. I do like the layout however and will continue to try it out.
I can not change the password now that it was initially entered.
I would love to be able to swipe the color-password and not just select each color in turn.
The full-screen color keypad is a little big to reach across with one thumb (too big)
The font is a little small for my older eyes (too small)
not to bad
I can't confirm the bug the previous user wrote as adding new field works for me. this app actually does what it says. it's a great way to store sensitive information. the interface is easy and fast. 4 stars due to a cheap looking interface. other than that this app works great!
Easy to use and no problems so far
I have been using this for a couple of weeks now and have not had any issues at all. My guess is newest version fixed the problems older reviews mention.
Information
Seller

JFDP Labs Limited

Size

579.8 KB

Category

Compatibility

Requires iOS 3.0 or later. Compatible with iPhone, iPad, and iPod touch.

Age Rating

4+

Copyright

© 2010 JFDP Labs

Price

Free
Supports
Family Sharing

With Family Sharing set up, up to six family members can use this app.