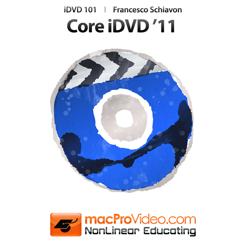 Description
If you're using iLife to record your digital lifestyle, you need iDVD '11 to make the finished DVDs that document your life!

iLife is an amazing suite of applications that let's you create rich media content right on your Mac computer. If you're using iMovie or iPhoto, at some point you'll need to create a disc to present your video and photos, and iDVD is the perfect tool for that!

In this 3-hour tutorial by Star macProVideo.com trainer Francesco Schiavon, you'll learn how to create detailed interactive DVD-Video discs. More than just a basic overview of the DVD-Video creation process, this title will teach you the deep science and other hidden secrets that make DVD-Video production a special skill for talented producers.

After exploring the Basics if iDVD and the theory about how DVD-Video works, you'll move on to work with drop zones and images to create custom menus, link content to menus, style buttons, and choose 4:3 or 16:9 resolutions for your disc. Next, you'll add movies and images to your title to make slideshows and chapter menus to enhance your presentation.

The title ends by showing you exactly what you need to know to output a finished DVD disc that will play on any set-top DVD-Video player!

This is a comprehensive title, but you don't need to watch the entire show. Use the detailed menus and keyword search functions to quickly find topics of interest - that's the essence of Nonlinear Educating!

Table of Contents:


01. Introduction
02. Demystifying DVDs
03. Exploring DVDs
04. OneStep DVD from a Camcorder
05. OneStep DVD from a Movie
06. A Run Through the iDVD Workflow
07. Magic iDVD: A Simple Drag and Drop User Interface
08. Selecting a Theme for Your Project
09. Working with Drop Zones
10. Setting Menu Intros and Outros
11. Setting a Motion Menu Duration
12. Replacing Menu Background Music
13. Linking Movies from a Menu
14. Creating Slideshows
15. Populating Empty Slideshows
16. Using the Map View
17. Changing Button Text Style
18. Setting the Button Highlight Style in the Inspector
19. Other Button Highlight Styles
20. Adding Button Transitions
21. Adding Non-Clickable Text
22. Creating and Navigating Submenus
23. Adding a Title Button to a Menu
24. Moving Content to Submenus
25. Removing the Apple Logo
26. Switching Between Standard and Widescreen Aspect Ra...
27. Setting Your Own Menu Backgrounds
28. Matching a Theme for Your Custom Backgrounds
29. Matching a Theme for Your Custom Video Backgrounds
30. Selecting Fonts that Work Better
31. Movies from the Media Browser and iMovie
32. Sharing iMovie Projects and Movies to iDVD
33. OneStep iDVD from iMovie
34. Importing Movies that are not in the Media Browser
35. Importing Movies with Chapters
36. Editing Slideshows
37. Setting Slide Duration
38. Adding Music to a Slideshow
39. Slideshow Music Volume
40. Setting Slideshow Transitions
41. Slide Transitions and Music Duration
42. Preview Your Project Before Burning
43. Burning Your iDVD
44. Playing the Burnt DVD and Conclusion
THIS IS NOT THE APP! Do not buy!
I can't believe this……… I wonder how the rating was modified before I purchased this app, I read the description and it was also different this is a SCAM.
You will pay back in life!
waste
Are you kidding me…I want my money back for this. Wish I read the reviews for this waste of money
Worst
Worst thing ever. Thought it was the App, not a stupid tutorial! I want my money back!!!
Information
Seller

Nonlinear Educating Inc. (macProVideo.com)

Size

309 MB

Category

Compatibility

OS X 10.6.6 or later

Age Rating

4+

Copyright

© 2011 macProVideo.com

Price

$13.99
Supports
Family Sharing

With Family Sharing set up, up to six family members can use this app.