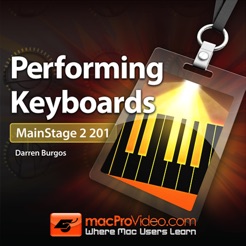 Course For MainStage 2 201 - Performing Keyboards
4+
Description
See how to make Apple's MainStage 2+ the heart of your live performance keyboard rig in this down and dirty detailed course by Darren Burgos...
Performing live as a keyboard player is a big deal: you might be asked to play live parts as well as triggering loops & beats. And you have to make sure everyone stays in sync to avoid those sonic train wrecks!

Apple's MainStage was designed with the live performing musician in mind. It enables you organize your patches and tracks, and give you full control of your sounds and FX during performance. MainStage expert Darren Burgos is your guide in this detailed look at this one-of-a-kind program. Here you'll learn everything from creating complex patches made up of multiple instruments and FX, to incorporating and triggering complex backing tracks. You'll also learn how to quickly deploy all of your MIDI controllers and hardware instruments right in MainStage. He even shows you MainStage's unique relationship with Logic Pro and how those two programs can easily share files and settings with each other!

Whether you're a one-man band or playing stadiums all around the world, you'll see how flexible MainStage can be and how quickly you can make it the electronic brain (and heart) of your live performance keyboard rig no matter how big or small your band is!

Table of contents:

1. Introduction
2. What does your performance look like?
3. Pre-Mapped and Un-Mapped Patches
4. Logic Pro Channel Strips in MainStage
5. Patches Contain Channel Strips
6. Creating Keyboard Splits
7. Using Multiple Controllers
8. Arpeggios in MainStage
9. MIDI Input Window
10. Auto-Assigned MIDI Devices
11. Assignments & Mappings - Part 1
12. Assignments & Mappings - Part 2
13. Tap Tempo and Loopback
14. Sending a Click to the Drummer
15. Preparing Your Backing Tracks
16. Preparing Loops and Samples
17. Click Track, Controllers and Patch List
18. Playback, Sets, Backing Tracks & Flex
19. Adding Logic Channel Strips
20. Saved Values, Transposing and Loop Controls
21. Adding Looper & Routing Sound
22. Assign & Map Looper, TapTemp & Flex Modes
23. Building an Audio Player
24. Multiple Backing Tracks & Adding FX
25. Adding Backing Tracks and Mapping Controllers
26. Sends, Busses and Aux Tracks
27. Synced Loops in Ultrabeat
28. 3rd party FX and Side-chaining
29. Performance
30. Conclusion
Ratings and Reviews
Great videos, lousy app & customer service.
I purchased and installed this tutorial set and immediately noticed glitches in the video player. Could not navigate to different sections of the video without pausing, re-locating, and resuming play. I wrote to customer service a week ago asking for a response, and they never got back to me.

Here is the email I sent:

"I purchased the "Course for Mainstage 2: Keyboard Performance" app from the Mac App store. Upon running the application and attempting to watch a video from the table of contents, I immediately noticed a problem when I clicked the Transport Bar at the bottom of the screen. Instead of jumping to the appropriate section of the video, it stopped playing.

It was not paused, I could tell this because it would not re-start the video.

I tried again with a different video. No luck. Basically, I am unable to edit my position within the video. If I start a video, I can pause but not rewind or fast forward. This will obviously be an issue if I am trying to use the tutorials in conjunction with Mainstage.

Tried:
re-opening the software
re-starting the computer
"open package contents" and looking for the videos in Finder. Found them, but they were unplayable by Quicktime Player (and labeled with long strings of letters and numbers"
uninstalled and re-downloaded the app.

Basically I am at a point where I can Pause a video, Move the cursor, and then re-start the video.

But any attempt to interact with the transport bar in an intuitive way leads to my videos crashing.

I have paid $19.99 for the tutorial, and I appreciate the work that has gone into it. I am wondering, though, if there is a way I can simply download the .mov or .mp4 files from you directly, as the App is almost unusable in its current state."

I never heard back from them after the initial automated response. It is a shame to leave such a lousy review, because the video tutorials are quite good. It is a shame it was packaged in such a careless way.
Information
Seller

Nonlinear Educating Inc. (macProVideo.com)

Size

394.3 MB

Category

Compatibility

OS X 10.7 or later, 64-bit processor

Age Rating

Rated 4+

Copyright

© 2012 macProVideo.com

Price

$13.99
Supports
Family Sharing

With Family Sharing set up, up to six family members can use this app.