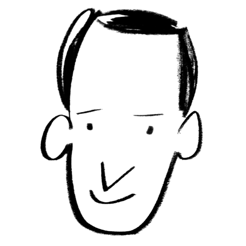 Description
David Sedaris's brilliantly skewed vision of the world is captured in an entirely new form: six delightfully animated short movies inspired by the author's diary entries.

Against the backdrop of bold, colorful graphics and music composed especially for this app, six stories unfold in David Sedaris's own voice:

• At a chain hotel near Santa Cruz, perhaps the worst hotel service ever.
• A moment of rare insight into the difference between German and American parenting styles.
• On a plane approaching Michigan, a flight attendant shares the secret of "crop dusting."
• Pigeons behaving badly prompt a consideration on scatological invective.
• A frost-bitten toe in your cocktail? Welcome to Anchorage!
• How a barn owl in Cheshire, England, made the author think differently about marriage.

David Sedaris (writer and narrator) is the author of the bestselling books Squirrel Seeks Chipmunk, When You Are Engulfed in Flames, Dress Your Family in Corduroy and Denim, Me Talk Pretty One Day, Holidays on Ice, Naked, and Barrel Fever. His writings appear frequently in The New Yorker and are heard on Public Radio International's This American Life.

Laurie Rosenwald (animator) has contributed drawings to The New Yorker, the New York Times, and many other publications. She is the author of All the Wrong People Have Self-Esteem and, for children, And to Name But Just a Few: Red, Yellow, Green Blue. She teaches a popular workshop in New York called "How to Make Mistakes on Purpose."
More, PLEASE
I would give this a hands down 5 (which I did at first) if it wasn't only those six stories! Nonetheless, it is still very cute and entertaining, and it IS only .99c - but This American Life is a mere $2 more and has endless amounts of material. Give me more, and I will pay more! PLEASE! LOVE this concept. LOVE David. Rotate the stories! Give us more, more, more! I want to hear you everyday! Or at least every week...

Love,
Wishes To Be More Satisfied/More Satiated in David Sedaris
Love, but I wish this was updated!!
I LOVE David Sedaris, and loved these animated shorts of parts of his larger stories. I just wish that this was updated. You can go to David's Facebook page and see the same clips that are on this app, and probably others. The app is free, so no loss. I watched the clips, then after a year without updates, I deleted off of my phone. I just reinstalled to see if anything was added, since David Sedaris' Facebook page redirected me here. No change since 2011, so I re-watched the clips and deleted the this app - again!
Get the Coffee
Usually when I buy an app, and I don't like it, I remind myself that it cost less than a cup of coffee, and what do I really have to complain about. Well, in this case I really wish I had gone with the coffee, as it would have lasted longer and been more rewarding.

This is a good concept, but a poor effort. I'd rather have purchased on full-length animated story, than this confusing bunch. While each one is clever, they all seem more like blurbs from a larger story than stories in and of themselves. Why the dates? Are more coming? You'd never know from the app which provides no explanation or direction.
Information
Seller

Hachette Book Group, Inc.

Size

94.3 MB

Category

Compatibility

Requires iOS 3.2 or later. Compatible with iPhone, iPad, and iPod touch.

Age Rating

12+

Infrequent/Mild Cartoon or Fantasy Violence

Infrequent/Mild Alcohol, Tobacco, or Drug Use or References

Infrequent/Mild Profanity or Crude Humor

Infrequent/Mild Sexual Content and Nudity

Infrequent/Mild Mature/Suggestive Themes

Copyright

© 2011 Hachette Digital, Inc.

Price

Free
Supports
Family Sharing

With Family Sharing set up, up to six family members can use this app.