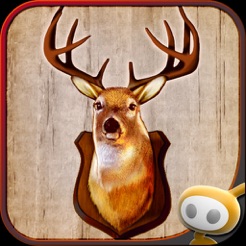 Deer Hunter Challenge
17+
Free
Offers In-App Purchases
Description
NOW WITH MORE WEAPONS, NEW CLOTHES AND NEW STORE ITEMS!!

ARE YOU UP TO THE CHALLENGE?

The ultimate DEER HUNTER experience has arrived, and it's ALWAYS open season!

DEER HUNTER CHALLENGE takes the most popular and realistic hunting franchise to extreme wilderness environments in search of the biggest, most prized game around the world. Go from rookie to master sportsman as your experience level increases, and upgrade to greater weapons, equipment and clothing. The more successful hunt trips you take, the more you'll be able to enhance your hunter's skills. Use the GPS map to track and train your sights on black bear, reindeer, cougars, axis deer, moose and more. Animals' behaviors have never been more true-to-life, so exercise extreme caution as these wilderness inhabitants will sometimes charge right at you! Relive your greatest kills in the interactive trophy room- animals' vitals are recorded as well as bullet trajectory and kill locations. Think you've got what it takes to become a master huntsman? The challenge has been issued... become a hunt legend in DEER HUNTER CHALLENGE.

RETINA DISPLAY 3D GRAPHICS
Deer Hunter Challenge now has the highest resolution graphics possible on both the iPhone 4 and iPod Touch 4th Gen, along with HD Graphics on the iPad!

GAME CENTER
Compete against your friends in the global Leaderboards and brag by unlocking all the Achievements!

NEW CAREER MODE
Earn experience points and become a more skillful hunter

PERSONALIZE YOUR HUNTER
Earn coins after successful hunts and get clothing and weapon enhancements

EXTREME HUNTING LOCATIONS
Experience far-flung hunting locations in extreme wilderness environments

REALISTIC GUNS
Choose from a variety of customizable weapons such as the Bolt Rifle, Shotgun, Crossbow and more!

TROPHIES
Earn trophies for bagging the biggest game and relive your proudest moments in the Trophy room

MINI GAMES
Play additional mini-games and bonus rounds

FOLLOW US at
Twitter - @deerhchallenge
facebook.com/deerhunterchallenge

PLEASE NOTE:
- This game is free to play, but you can choose to pay real money for some extra items, which will charge your iTunes account. You can disable in-app purchasing by adjusting your device settings.
- This game is not intended for children.
- Please buy carefully.
- Advertising appears in this game.
- This game may permit users to interact with one another (e.g., chat rooms, player to player chat, messaging) depending on the availability of these features. Linking to social networking sites are not intended for persons in violation of the applicable rules of such social networking sites.
- A network connection is required to play.
- For information about how Glu collects and uses your data, please read our privacy policy at: www.Glu.com/privacy
- If you have a problem with this game, please use the game's "Help" feature.
3 new weapons: .28 Double Barrel Rifle, Tactical Assault Crossbow and Bull-Pup Assault Rifle

New clothes including Blaze Orange Jacket and Pants offering powerful new bonuses to XP, credits and speed

New store items including the Energy Drink to steady your hand and restore your steel nerves and focus

Additional fixes and game optimizations
Ratings and Reviews
Love the game, although limited
I love this game I've had it for a little over 3 years, and I still think it's one of my better if not best apps. This game is about comically shooting deer, bears, etc. I like how it is simple, just tapping to shoot, and that there is no blood cause I personally don't like having blood in the game. The graphics are quite great for it's time, it's also pretty realistic with the bear occasionally attacking you while the deer would always flee. It is really rewarding to kill an animal, which seems easier when it is on the move.

There is some unnecessary limits though, that prevent me from ranking this a perfect 5. There is a variety of guns and accessories to choose from, but require a lot more money that I have. Also it is sometimes very hard to kill the wildlife, even when I use the steady mode. The aiming system looks as if the gun shot would fire in the dead center of the deer, but right when I shoot, it seems as if I had missed by a mile. I don't really know if this is a glitch but either way it is still an app very much worth getting (love that it's free).
Doyoulikemybearskinhat?
,
Good, but...
The gameplay is good overall. Intuitive controls. The tutorial could be better. My game glitched the first time that I opened it, but hasn't done so again since. On the GPS screen where you track the animals, my blue circle froze in place and, with the crappy directions, it wasn't until I reloaded the game one last time (if this hadn't worked this was about to be deleted) that I could see that the blue circle was your hunter's area of movement. After the initial slip up, it has run perfectly. I really enjoy the hunting simulation, but the gear is over priced in hopes that you will spend actual money buying it. You can get by easily enough without resorting to that, however don't expect to take out your first moose with an assault rifle for free. All in all I'd say this is a very enjoyable hunting sim where the pros more than outweigh the cons.
Constructive Criticism Corner
Dear Developers of this Game,
Most People give nothing but praise about this game, and i agree 110%, but there is still room for improvement. While the Hunting areas are stunning and very clear, they should also be more varied, instead of having 2 or 3 areas per map, add some more spots, or even better, make the whole map free reign. another issue that comes to mind is the store. while most of the items are of reasonable price, you should make collecting hunter cash easier, or drop the price of some the exclusive items, such as the silenced sniper rifle, or the assault crossbow. remember, these are just opinions from one person, but i think they would enhance the experience greatly.
- With kind regards,
A long time follower of Glu Games Inc.
Information
Seller

Glu Games Inc

Size

386.5 MB

Category

Compatibility

Requires iOS 3.0 or later. Compatible with iPhone, iPad, and iPod touch.

Age Rating

You must be at least 17 years old to download this app.

Frequent/Intense Realistic Violence

Copyright

© 2010 Glu Mobile

Price

Free

In-App Purchases

Hunter Pouch - 20 Hunter Points

$2.99

Hunter Satchel - 60 Hunter Points

$6.99

25K Credits Pack

$2.99
Supports
Game Center

Challenge friends and check leaderboards and achievements.

Family Sharing

With Family Sharing set up, up to six family members can use this app.