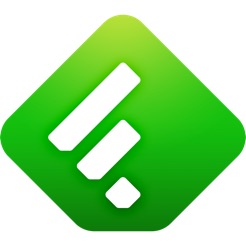 feedly. Read more, know more.
4+
What's new in version 0.2?

New stuff:
- You now have the possibility to open articles in a new tab inside the feedly app!
Default behavior is still the same (article links are opened inside you web browser), so modify your app preferences to try out the new feedly tab bar.

Bug fixes:
- Popups inside the app are now resized to fit their content.
- Fix Buffer bug with login via Facebook or Twitter
- Fix Pinterest bug where users can't pin images.
- OPML file upload via the app is now supported.
- Remove bounce behavior on scroll
Ratings and Reviews
Still Great Native App But Needs Improvement
Aside from the native app improvements others have noted, myself included, with the previous version the addition of opening links in the app as tabs introduced the bug where the Apple-W shortcut closes the window and not the active tab. As a native app, following web browsers' examples, the Apple-W shortcut must close tabs before closing the window. Then, perhaps, as a fullscreen app (when in that mode, as I always use it in) the Apple-W shortcut should be disabled when only the main tab is open.
Major Bugs and no support (unless you pay)
The feedly 'app' is just a clone of the website. Except it does not work as well as the website. In fact, if you 'unpin' the sidebar and allow it to be minimized, which is necessary if you want it to fit in a narrow window, it becomes impossible to re-open the sidebar. The sidebar 'opens', but within the now-minimized container of the closed toolbar, so you can just see the tiniest left-hand portion of the sidebar, and only the edges of a few symbols. The only link you can click is for 'all'. Basically the bug is that when you minimize the sidebar, the 'restore to normal size' function is broken. This makes it completely unusable. In fact, even after deleting the app and reinstalling it, it's still stuck like this. So I guess I am stuck using the web app.

Also, there is no support at all for free users, not even a troubleshooting or knowledgebase page, or any kind of bug reporting/feedback available.
Untapped potential and unfulfilled mission
Feedly is, naturally, supposed to "feed" you stories throughout the day. What I like about RSS is that it is more professional. When I enter my office every morning, I want to read the news. I open up Feedly, and on a good day, it will not crash. But the experience is nothing more than a dedicated we browser. Nothing about the App makes it feel like an app.

A couple of things I hope the Yosemite update does:

1. Creates an App experience. Something dedicated to the user and unique.

2. Notifications and/or widgets. I feel confident to say that Notification Center will replace the widget center (does anyone really use the widgets, really?). Here is Feedly's opportunity. I want to customize my news experience. I do not want the onslought of Twitter, but I want to choose SCOTUSBlog, and maybe local news to get pushed. The other news is ancilliary and can be viewed later. If I could customize what gets pushed, and even enter key words or names to notify me of. For example, on SCOTUS, if I wanted to know about a 4th Amendment decision that was made, I could get that pushed to my desktop.

3. Create a standard for RSS feeds, such as tags, or keyword standards.

The current experience is a waste of hard drive space. Just tag it in Safari and use Safari. The app provides nothing more.
Information
Seller

Feedly Inc.

Size

924.3 KB

Category

Compatibility

OS X 10.9 or later, 64-bit processor

Age Rating

Rated 4+

Copyright

© DevHD inc.

Price

Free
Supports
Family Sharing

With Family Sharing set up, up to six family members can use this app.