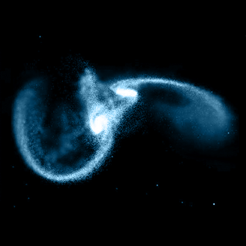 Gravilux
4+
$1.99
Offers In-App Purchases
Description
"Apps like Gravilux awaken an 'Avatar'-like sensitivity to electricity in the body, power in the palms and general connectedness." - NY Times
"Every once in a while, an app will come along that has no practical application whatsoever but is just SO COOL that you have to have it! Gravilux is that sort of app." --iphoneapplicationlist.com
"Of the millions of apps out there, none quite capitalize on the sheer fun and beauty of interactivity the way that Scott Snibbe's do." --CoolHunting

**iTunes Top 10 App of the year for Art and Music and #1 Entertainment App**

Gravilux lets you draw with stars: it's a combination of painting, animation, art, science, and gaming. As you touch the screen, gravity draws simulated stars to your fingertips. You can tease and twist the particles into galaxies, or explode them like a supernova. You can color the stars by their speed, and make them dance to music. You can change parameters including gravity and number of stars, and enable antigravity, color, make gravitational typography, and upload to Facebook, Twitter, and email. Multiple fingers and multiple people can touch the screen at once, collaborating or competing. Gravilux was first released as a work of interactive art by Scott Sona Snibbe that was only available in galleries and museums that became a best-selling hit on iOS, and inspired Björk to work with him and his studio on the first App Album: Biophilia.

Facebook: http://facebook.com/scottsnibbe, http://facebook.com/gravilux
twitter: @snibbe, #gravilux

share on flickr: http://flickr.com/groups/gravilux
* Improved music visualizer with enhanced color and movement
* Speed improvements and optimizations
* Improvements to music visualizer and typography iPhone interfaces
Ratings and Reviews
Great yet still a few issues
I would have gladly rated this app 5/5 but due to an issue I encountered I gave it a 3/5, this issue is that the first time I used the music player with the particles moving to the music it worked fine but when I closed the app and reopened it and started it again the particles moved all over the place and weren't moving around the center like they were supposed to and when I do it manually it still does it the vertical setting doesn't even cause the particles to run down the center of the screen and even then it doesn't even collect in the same spot and is all over the place. The setting that makes it collect in the center of the screen in one spot doesn't work at all like it did before. Other than that everything else works fine and dandy like its suppose to. Please fix these issues I mentioned otherwise it will stay a 3/5 rating.
Update adds polish and value
This update polishes the phenomenal 2.0 release. Music visualizer is incredible with rich colors and incredibly complex motion - make sure to press the colored note button for color shifts. Everything from Gravilux before is better, and I've discovered things I hadn't before in settings and colors. The app has helped me through boring meetings and frazzled times at the end of work. Get it!
Awesome
Everyone should have this app on their iPhone. Much like the "marble in a maze" that Apple previously featured in commercials, this is an app that really showcases the ability of a touchscreen phone. On the 6S now, but I've had this on my phone since the iPhone 3. Other apps have come and gone. This one stays.
Information
Seller

Scott Snibbe Studio, Inc.

Size

4.1 MB

Category

Compatibility

Requires iOS 4.2 or later. Compatible with iPhone, iPad, and iPod touch.

Languages

English, German

Age Rating

Rated 4+

Copyright

© 1998-2012 Scott Snibbe

Price

$1.99

In-App Purchases

Gravilux Plus Upgrade

$1.99
Supports
Family Sharing

With Family Sharing set up, up to six family members can use this app.