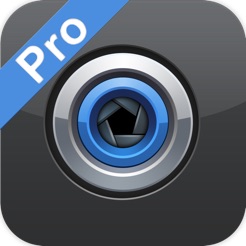 Great Photo Pro – Best all-in-one photo editor
4+
Description
Great Photo Pro is the best all-in-one photo editing application!

Produce amazing results with the one application that gives you all the tools you need! With brilliant editing and Visual Effects, Realistic HDR, Big Aperture, 1-Click Enhance, RAW Converter, Color Splash, Collage, Text, and a comprehensive toolbox of editing tools (rotate, crop, straighten, re-size, plus many, many more), you will be amazed by how user-friendly and addictively fun your experience with Great Photo Pro will be. Wrapping it all up is the most addictive user experience you've ever had making great images.

Features:
• 1-Click Enhance
1-Click Enhance is perhaps one of our most powerful features.
"Picasa's 'I feel Lucky' and other image editing tools look shabby in comparison" (user review).
Instantly transform "dull," "bad," or "iffy" photos with our pixel-by-pixel enhancement that optimizes the brightness, contrast, saturation and exposure values. With a single click your original photo will be transformed into something you will definitely want to keep and share!

• Visual Effects & Frames
Stretch your creativity further with a huge palette of effects and frames that were designed with input from experienced graphic designers and photographers. Simply select a source image, and give free reign to your creativity and imagination.

• Realistic HDR
Everimaging's award-wining HDR Technology captures the real beauty you've seen, and rapidly restores every detail in both the shadows and the highlights of the scene. Using three or more bracketed photos (normal, over and under exposed), our HDR module systematically combines the images to produce a final photo with the best tone and light, and with top-notch speed and ease. The "anti-ghosting" and "alignment" features take your image to the next level, allowing for the best possible results with the least amount of effort.

• Raw Converter
RAW converter with tone mapping supports over 100 camera RAW formats. Import the RAW files and Great Photo Pro 2 will take care of the rest, producing great images.

• Big Aperture
Big Aperture module gives your images effects normally only seen with professional grade DSLR cameras. Unleash your creative inspiration with a mix of sharp and blurred areas, controlling both sharp focus and selective blurring. Further simplify the process with presets for portraits, natural scenes, architecture and macro photography.

• Color Splash
Color Splash makes you the master of color control! Choose any color you want to stand out in your image, while transforming the rest of the photo into black and white. Artistically use your mouse as a "brush" to paint while using adjustable parameters to further control the effects you want (size, radius, transparency).

• Collage
Enjoy the flexibility to arrange your pictures however you want with three different modes of collage: Template Collage, Photo Stitching and Free Collage

• Add Text
Personalize your photos by adding your own commentary, thoughts and messages for others to see, or just add notes to help you remember. Define the color and font of the text however you want.

• Sharing via Social Media
Our 1-Click Share feature lets you upload your edited photos to Facebook, Twitter, Flickr, and other social media platforms.

Great Photo Pro new updating includes the following new and improved features:
1. Even more user-friendly interface
2. Crop & Straighten
3. Free Collage
4. Photo Stitching
5. RAW Converter
6. Add Text
7. Support Mac OS X 10.9

Ratings and Reviews
Can insert Text but not special characters
Purchased this app after careful review of similar apps. I need to label and insert text into drawings and this was a well-rated app which stated that Text was one attribute. However, even though they have a listing of "special characters", there does not appear to be a method of inserting the "special character" (in this case an arrow) into the photo. Extremely frustrating. I guess I'm stuck with this.
Extremely disappointed!
I purchased this app after researching many oher apps. I am not a pro I just wanted to make my pictures look better. None of the features work on this app. The RAW feature does not work at all. The edit feature on the regular iPhoto works better. I have read and re-read the directions and went to their website and their "support" is from 2014. If anyone can explain it or guide me, I would really appreciate it. I have wasted my money, otherwise!! DMc
same old stuff
I must be missing something. All I want is a photo editing program that really works. I want to take one photo, make it a background, and crop & paste another photo onto it. Simple, but I can't find any photo editing program that does it. This program does all the basic stuff that all the others do. When I saw thew "collage" feature advertised, I thought I could do more, but this doesn't give me any option, you have to use some really cheesy looking background with holiday/family themes. it doesn't make sense to me. I haven't tried too many for MAC, as I am new to MAC, but I find this paticular AP difficult work in. If I edit a photo, I want to SAVE, not have to close, and then ask to save. I want to save in steps, but there doesn't seem to be a way to do it. Also if I move a photo (it seems only way is one at a time) into bottom tool bar, when I close and go back, they are not there & I have to do it all over again. what a waste of time. I cannot understand what everyone likes so much about this program. I tried to use HDR function, and it tells me my files have to be same size & type…really? I just want to have fun. if you want to have fun, don't buy this.
Information
Seller

Chengdu Everimaging Science and Technology Co., Ltd

Size

43.1 MB

Category

Compatibility

OS X 10.7 or later, 64-bit processor

Age Rating

Rated 4+

Copyright

© Everimaging Ltd

Price

$9.99
Supports
Family Sharing

With Family Sharing set up, up to six family members can use this app.