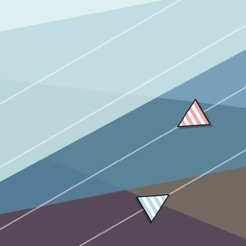 Description
By Zach Gage and Kurt Bieg
* Finalist at Indiecade 2011 *
* Finalist for for Best Mobile Game in IGF2011 *

"Innocently sucks you in for hours." - ABC News

4/5 Stars - iOS Game of the Day for January 13th
"A deep and challenging action-puzzler that's a natural fit for Apple's tablet." - GamePro

"A fun, unique, and delightfully musical challenge"
-Gamezebo

"... It's awesome, and there's something oddly trancelike about directing triangles against a background of soothing sounds and music..."
-jayisgames

"Feels like...Nintendo's Art Style and Bit Generations series" -GamesRadar

"a lovely aesthetic and a powerful dose of addictiveness."
"brings to mind Rez"
-TouchArcade

"If you've an iPad, do yourself a favor and buy this game."
PodGamer ESSENTIAL Award
- PodGamer.com

"Fresh, engaging and fiercely challenging; if you're looking for something that's unlike many iPad games out there right now then you should get this one." - 148apps

*Exhibited in the Giant Robot Magazine: Pixel Pushers show*

9/10 - theiPadTop.com

"Just the thing to fill the gaping void in your otherwise perfectly balanced modern life." - EuroGamer.net

Two Thumbs Up - ExtraLives.tv


* A Unique Action Puzzle Game *
Halcyon is named for the mythological bird of ancient Greece, said to charm the winds and seas into a calm during the Winter Solstice.
Gameplay is one part spacial action puzzler and one part interactive stringed instrument combined in an experience designed specifically for the iPad.
Colored currents travel inexorably toward each other. Strum the strings to match the currents, creating both phonic and visual harmony.

Take on the role of the Halcyon, conducting nature, untangling currents, and bringing calm to the wind, sea, land, and stars.

* A Generative Musical Instrument *
Halcyon features a complete generative soundtrack that becomes an instrument when you play the game. Since its designed to accompany you while you play, you'll create tranquil sonic landscapes as you travel along.

* Tons of Gameplay *
: 36 Levels through Four Environments
: Two Endless Modes that dynamically adjust difficulty based on how you are doing
: A Twelve Song Generative Soundtrack
: OpenFeint + Game Center

If you enjoyed Unify, you'll love Halcyon
- Finding things too difficult? This update adjusts the difficulty to make for a better curve. Don't worry though, the end levels are still very hard :)

- Minor UI Fixes
- Minor Bug Fixes
Brilliant!
Easy to learn, hard to put down, excellent quality, unique, brilliant.
Relax, don't focus, let your subconscious take over while your conscious mind takes a break.

A must experience for anyone, particularly visually oriented thinkers.
Great arcade game, flight control-esque
Very well executed track switching game, including a short but difficult story mode and two endless modes. Personally I'm not a big fan of flight control and similar games, so while I liked the concept and unique style of this, I'm not particularly good and didn't really enjoy it. Gameplay is quite fast-paced, despite the downtempo music, especially if you make a mistake and have only a second to correct it. Maybe I'd like it a bit better if there was a way to cancel bridges, as well.
Great game, a bit tough for the color-blind
Great game, wildly entertaining. Some of the color choices do make it difficult for us color-blind folks, especially in the Land level.

But that's the only issue I have. Really challenging.
Information
Seller

STFJ LLC

Size

20.3 MB

Category

Compatibility

Requires iOS 3.2 or later. Compatible with iPad.

Age Rating

4+

Copyright

© Zach Gage and Kurt Bieg, 2010

Price

Free
Supports
Game Center

Challenge friends and check leaderboards and achievements.

Family Sharing

With Family Sharing set up, up to six family members can use this app.