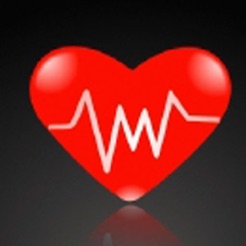 Description
THE ORIGINAL IPHONE HEART MONITOR.

POD TOUCH V2 OWNERS
* Must own Apple headphones with microphone.
* This can be Apple iPhone headphones or new Apple In Ear headphones which have a microphone + volume controls.

HOW IT WORKS
A real heart monitor that uses the inbuilt microphone to hear and detect your heart rate. You can use the microphone on your headphones or the inbuilt microphone at the base of your iPhone 3G to measure your heart rate. Use Heart Monitor to get very accurate heart rate results, find your resting heart rate, track your previous results and use the special Pulse Count mode which helps you take manual pulse counts when you are training.

Because Heart Monitor uses sound to detect heart rates, you can use the iPhone 3G directly over your heart or directly on the pulse in your neck or wrist. Heart Monitor works best in quiet areas. You can get excellent results when using the microphone on your headphone cable.

IPHONE 1G/2G AND IPOD TOUCH V2 OWNERS: You MUST use the headphone cable microphone for Heart Monitor to work. The inbuilt microphone on the older phones are not very sensitive. And iPod Touch V2 does not come standard with any microphone, you must buy the optional Apple Headphones + Microphone.

UPGRADES COMING SOON.
* Email your heart beat graph.
* Storing of all heart beat graphs.

Before buying heart monitor check to see if you can find a pulse point located:
* In your neck just below the start of your jaw.
* Your chest directly over your heart.
* Your wrist inline with the base of your thumb.
See pictures to the left.
Ratings and Reviews
Don't buy it
I just doesn't work.... Don't waste your time or money....
Reason : Detection of beat / pulse at wrist, chest or cartoroid is spotty at best.
When you do get some sort reading.. the "beat" detection on the "graph" is all over the place....

waste of 3 bucks..
Go buy a fart app instead, at least that works!
Almost perfect
I bought this app knowing its gonna be hard to replace my regular strap based heartrate monitor, and that came to be true. That said, this app is far from being bad, in a quiet room i was getting results close to the ones shown on my expensive Polar monitor (this app was off by about 5 bpm) which is pretty close but, not perfect. Also, its extremely hard to use it in a loud environment (Gym) since the mic from the headset has tendency to pick up all kinds of noise. If you are on a treadmil, running, and at the same time pressing with your finger the headset's mic onto your neck, any motion of the finger will be read as a heartbeat therefore you'll be getting off readings.
All in all, I'm VERY happy with this app, and hoping the future updates will correct and/or improve the current obstacles (low signal levels, noise reduction).
Heart Monitor Didn't Work for me, or any of my friends
I thought the problem was that my heartbeat might not be distinct, but I had two others try it in quiet rooms. The readings in every case were all over the map: 30, 90, 100, 30, so whatever sequence it was picking up, it certainly wasn't from the heart.

Too bad, I wish this had worked. Great idea. Could be that the iPod Touch headphone/microphones weren't sensitive enough, but I even pressed the mic into my neck hard enough to leave a mark for a half an hour one time, and it still didn't work for me.

The pulse reader is nice as it gives you a record of rates as you go through different parts of your workout. Hopefully, the program can be re-written to be more sensitive to the mics signal.

If it was redeveloped, I'd download it again.
Information
Seller

John Ballinger

Size

1.8 MB

Category

Compatibility

Requires iOS 2.0 or later. Compatible with iPhone, iPad, iPod touch (2nd generation), iPod touch (3rd generation), iPod touch (4th generation), iPod touch (5th generation), iPod touch (6th generation), and iPod touch (7th generation).

Age Rating

4+

Copyright

© Bluespark 2008

Price

Free
Supports
Family Sharing

With Family Sharing set up, up to six family members can use this app.