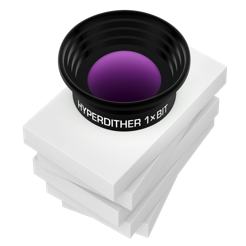 Description
HyperDither is an OS X app that uses an elegant color reduction (dithering) routine to turn color or grayscale images into 1-bit black and white. The visual effect produced by this technique creates rich, velvety tones, and is higher-quality than the "Diffusion Dither" method used by Photoshop.

History

In the early 1980s, while developing the graphics technology for the first Macintosh, Bill Atkinson (HyperCard, QuickDraw, MacPaint) discovered a very elegant filter to convert greyscale image data for display on the Mac's 1-bit black-and-white screen.

Later, this graphics routine was implemented as an option in Apple's HyperScan software, connecting early Macs to flatbed scanners, and nowhere else. HyperScan, and the excellent Atkinson dithering routine, were subsequently unavailable for many years—but not forgotten! We emailed him to inquire about the details of the algorithm and he was kind enough to respond with a brief write-up of the routine that is now available in HyperDither.
Ratings and Reviews
Perfect
As someone who has had a Mac at home since the original 128k in 1984 and also used ThunderScan (which was where Bill's algorithm was first used), i love this simple, well-designed app. For those not familiar with its output, the screen shot here on the app store is not the best example. Tinrocket's website has a direct comparison between this and Photoshop's diffusion dither.

This app is useful for modern graphic artists either by combining its output with other layers in Photoshop (or other bitmap graphics programs that support layers) or preparing an image for print using this instead of a normal PostScript halftone. Be sure to play with the sharpen and contrast options (those were available in 1980s implementations, too) to chose the best dithering of a particular image.

I only wish the developers would put a change log on either here or their website like used to be included in the "Read Me" file that was distributed with the program before it moved to the app store.
Very basic
The app appears to be using a decent enough dithering algorithm and the batch processing would be useful. Unfortunately the sharpen and contrast options are strict toggles and give very little room to customize the output making this app useless for my purposes. It would've been so easy to make these a couple of sliders that would really allow you to dial in what features of the source image you're trying to capture. That at a baseline would've made this purchase worth it to me. I would be completely thrilled if it offered multiple dithering algorithms to choose from, maybe even where you could specify your own noise pattern.
Information
Seller

Tinrocket, LLC

Size

5.5 MB

Category

Compatibility

OS X 10.7 or later

Age Rating

Rated 4+

Copyright

© Tinrocket, LLC

Price

$4.99
Supports
Family Sharing

With Family Sharing set up, up to six family members can use this app.