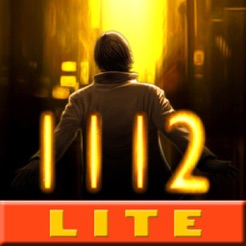 Description
ALERT: our new game 'Shufflepuck Cantina' is now available!
http://itunes.apple.com/app/id553470733
****** 

1112 episode 01 LITE is the very beginning of the world first episodic adventure game exclusive to the iPhone and iPod touch.

Louis Everett is leading a quiet life and minding his own business as the most average middle class citizen. He lives with his beautiful but rather nosy wife in the peaceful Jalonsville New jersey.

Take a journey to explore this intriguing mystery and discover the reasons behind his constant headaches and strange dreams.
Meet a bunch of colorful characters, dive into bizarre situations until an unpredictable event occurs and turns everything upside down!

FEATURES:
- Advanced graphical design and artistic direction
- 15 larger than life environments
- 8 characters
- Various puzzles
- An incredibly responsive Multi-Touch user interface
- Original score
- Elaborate interactive narrative
- Totally redesigned game engine

-----
1112 episode 01 available!
1112 episode 02 available!
1112 episode 03 available!

-----
Devenez fan sur Facebook : facebook.com/1112game
Suivez-nous sur Twitter : twitter.com/aghartastudio
YouTube : youtube.com/user/aghartastudio
- added a link to 1112 episode 03

*******
ALERT: our new game 'Shufflepuck Cantina' is now available!
http://itunes.apple.com/app/id553470733
http://www.youtube.com/watch?v=bIiKzdQM8yY&hd=1

****** 
Become a fan on Facebook: http://www.facebook.com/1112game
Follow us on Twitter: http://twitter.com/aghartastudio
YouTube: http://www.youtube.com/user/aghartastudio
Ratings and Reviews
Decent
The dream seemed interesting. But the sample was a little short and it makes the game seem boring. Lower the price and then I'll buy the full version 5 dollars is a bit much.
Pointless...
It looks like it could have been interesting but parts are unresponsive to touch on the iPad 3. I tried everything on the safe but nothing moved the dial. Even arrows on the top of the screen in some scenes did nothing. Also very frustrating, no hints. I touched everything in the bathroom and hallway and only got snide remarks. Apparently he needed his medication that I'm assuming must be in the safe that was not openable. The only thing that actually did anything was the alarm clock that you could turn into a radio, after that, nothing did anything but trigger dialog that led nowhere.
Intriguing!
This is just a sample of the full version of episode 1 FYI... It is not meant to be a long involved sample. It is amazing compared to other iPhone games. I just downloaded full episode one!
Information
Seller

Agharta Studio

Size

68.3 MB

Category

Compatibility

Requires iOS 3.0 or later. Compatible with iPhone, iPad, and iPod touch.

Languages

English, French, German, Italian

Age Rating

12+

Infrequent/Mild Profanity or Crude Humor

Infrequent/Mild Mature/Suggestive Themes

Infrequent/Mild Horror/Fear Themes

Infrequent/Mild Alcohol, Tobacco, or Drug Use or References

Infrequent/Mild Cartoon or Fantasy Violence

Copyright

© Agharta Studio

Price

Free
Supports
Family Sharing

With Family Sharing set up, up to six family members can use this app.