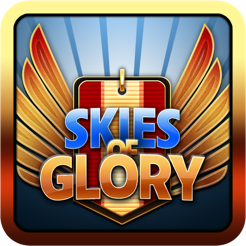 Skies of Glory
12+
Free
Offers In-App Purchases
Description
Gear up for the ultimate in multiplayer air combat! SKIES OF GLORY takes you back to the groundbreaking aeronautics of World War II, set in the real life terrain of both Pacific and European theatres of war. Over land and sea, under realistic weather conditions, you and your friends can team up to defend a base, destroy enemy compounds and logistical resources, or show off your piloting skills in a full-force free-for-all.

"Pretty graphics? Check. Lots of action? Check. The ability to blast your friends out of the sky over a WiFi connection? Check." Brian Caulfield, Forbes.com

Skies of Glory features a robust list of multiplayer options for WiFi and Bluetooth play. Host 8 player simultaneous combat over a single WiFi network. Synch up over Bluetooth for one-on-one action. Use any 3G or WiFi signal to connect up to 8 players from around the world.
Fly the SKIES OF GLORY any time, any place!

Features

• 3D accelerometer based flight combat
• Get up close and personal with your opponents in WWII style planes
• Stunning graphics and immersive audio make for a more visceral combat experience
• Multiple skirmish modes, campaigns, and tons of training missions with more to come
• Engage with opponents from around the world in 8-player combat over the internet via 3G and WiFi
• Fly with friends over any local network for up to 8-player combat
• Buy more planes for your hangar to maintain a competitive edge over your opponents
• Take off from your base or aircraft carrier on bombing runs to eliminate enemy ground targets, bridges and ships
• Play your own music over our customizable jukebox

Skies of Glory is developed in collaboration with Revo Solutions.

Try Other SGN Games

F.A.S.T. - War is coming to your part of the world, will you be ready?! Get ready with F.A.S.T.: Fleet Air Superiority Training. Fly skirmishes against simulated pilots to build flying and dogfighting skills, and then put those skills to the test in live head-to-head combat against other pilots around the world over WiFi Internet!

(fluff)Friends - A free app that lets you adopt , feed and race (fluff) pets as well as decorate their habitat. With one of the most dedicated and loyal communities on the social web, (fluff)Friends is a favorite for all ages.

SGN Golf: This app lets you swing your iPhone or iPod touch like a golf club and then tells you how far your shot went. Your device gauges how fast you swing and how far your shot travels with its accelerometer. It's like having a driving range wherever you go.

Agency Wars – Play advanced scenarios based missions for the CIA, KGB, Mi6, Mossad or MSS and compete against the rival agencies. With an in-game economy to buy precious items, location-based gaming, and Facebook Connect, no other game stretches the iPhone's technology so far.
Mafia: Respect & Retaliation: The first of SGN's role playing games, players complete "jobs" to become the Don of Their city. With its 'Sin City" like 2D graphics and clever location-based game play, players can immerse themselves in the mob world.

Vampires vs. Werewolves: From SGN comes a howling experience that you can sink your teeth into. Vampires vs. Werewolves takes place in a gothic horror world where the two most fearsome creatures of the night fight for superiority and blood.
Ratings and Reviews
Download problem
This game is a really good one. WWII dogfighting game. You start off with a
P-40, a few dogfights and missions and you can buy more of each with real money. There is also multiplayer. The P-40 isn't bad unless its against paid planes. There is only one problem, I go to the market go to planes, buy a grey P-51 mustang and nothing happens. I get no plane. Then I go to buy it again. It's says "this item has already been purchased but has not been downloaded" there is nowhere I can find that let's me download it. I tried clearing space on this iPod. I tried restoring purchases. And none of these works. Please tell me how to fix this. This could easily be a 5🌟 game but because of this problem it is only worth three. This isn't a bribe. I am a person who likes dogfighting games and this is worthy of 5🌟s so please contact me.
Fun game to play alone...
A great app for killing time. Not a realistic flight sim but still fun to play alone. I find the type of online players that I have played, have no formation tactics or are not a team player. Most use rockets, why, can't they figure out how to use bombs? When organizing an online room, I find most players don't read the name of the room... No one ever tries formation flights or having one group fly cover for the ground attack... It's like playing MW... fearless paintball antics. But the game is fun to play on your own... Good Luck
EPIC
Hey guys! Sorry I haven't been in the skies lately!... Been kind of busy... Anyway to you people that don't have this game, please get it cuz its amazing. The developers are not updating it, but it's still cool anyway. I haven't updated my iPod to iOS 6 so idk of any problems with that. There is a way to fly a free plane without buying it. 1. Go to plane purchase. 2. Find the plane you want to use. 3. Hit the X to exit (remember, don't buy the plane, just hit the X). When you get back to the the home screen, play multiplayer and, poof! You are flying the plane. Magic! Well, not exactly, but anyway this only works for multiplayer.

-Pass The Gravy
Information
Seller

MindJolt

Size

17.5 MB

Category

Compatibility

Requires iOS 3.0 or later. Compatible with iPhone, iPad, and iPod touch.

Age Rating

12+

Infrequent/Mild Realistic Violence

Copyright

© 2009

Price

Free

In-App Purchases

P40

$0.99

BF 109 Gray

$0.99

BF 109 Brown

$0.99
Supports
Family Sharing

With Family Sharing set up, up to six family members can use this app.