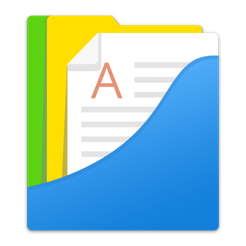 Description
Original price $69.95, it's now offered with 30% off at only $49.95, Get your iDocument+ for the price of iDocument 2!!

iDocument Plus helps you collect and organise every bits of the data in your Mac, big or small. It automatically detects all new data generated in your Mac, your Cloud services and then keep them in the order you like, you could then easily browsing them or find them back within a simplicity interface. Your favourite web images, movies, musics, movies, newly scanned receipts, emails to archive, important documents, everything will be kept safely in one place.


Features:

Supported most of the data formats:
Documents: .numbers .pages .key .doc .docx .xls .xlsb .xlsx .csv .ppt .pptx .pps .ppsx .pot .potx .pdf .lpdf .odt .ods .odp .odg .odf .rtf .rtfd .txt .csv .tex .md .gdoc .gslides .gsheet
Ebooks: .epub .epub2 .epub3 .chm .djvu .mobi .azw .prc
Comics: .cbr .cbz .cbt .cba
Images: .png .jpg .jpeg .tiff .tif .bmp .psd .pxm
Productivity: .eml .omniplan .garffle .opml .oo3 .mmap .zip .rar .7z .markdown .markdn .mdown .mmd
Web: .html .webloc .webarchive
Video: .mov .mp4 .m4v .avi
Audio: .m4a .m4b .m4b .m4p .mp3 .wav .aiff

Organise files from a variety of sources:
iDocument Plus is capable to index files from every corner from your Mac or your Cloud services, includes: Documents folder, Dropbox, iCloud, etc. In that way, all your data will be presented in a single data for you to organise and use.

Find the documents by your preferences:
You could find the files by its title, tags, author, its importance level, the size or when you created the file. It simply understands your preferences.

Sophisticated data management workflow:
Folders, Tags, auto groups, Smart folders, everything you'll need to organise a file, it's all included in iDocument+

Colourful New UI themes:
Seven different colour themes for you to pick up the most appropriate one to organise all your data inside.

Fast file share between wireless networks:
You could now easily share files among iDocument+ within the same wireless network, share files by only two clicks.

Email/scanner, more productivity support:
Invoices, Receipts, work emails, important documents, those files can be directly imported into iDocument+ to organise.

10.9 OS Tags support:
The latest system tags is now supported in iDocument+, all tags you added on a file, will now appear in both iDocument and Finder.

Multiple libraries switching support:
You could now easily switching among multiple libraries, it's a great way to store data for different usages and purposes.

Duplicate files checker:
iDocument+ can now check all your duplicate files inside your Mac and let you easily delete the duplicate files.

● Added support for retina display;
● Added support for .ai files;
● Added supoort for .sketch files;
● Added a new flat style iDocument icon;
● Fixed other bugs.
Bugs.
I have to say, I wanted this to be worth $50.
Indexed folders don't work properly. Every time a change is made, a dupicate is added to iDocument.
Better support for network drives is a must.
Not a happy camper. I can't use the app, so I suppose I will wait for an update or something.
not ready for serious business use
iDocument Plus is easy to install and has a simple, almost-intuitive user interface. Although it is probably a good low-cost choice for organizing notes for a college paper or similar home-based project, it failed our miserably for our small business.

The initial indexing process is aggressive with memory and CPU usage. Don't plan on getting any other work done during it. We had about 82,000 short documents to index and iDocument quickly froze our iMac 3.06 GHz with 4 GB memory running the latest version of OSX Mavericks. After numerous hard reboots, and two reinstallations, we finally succeeed in getting iDocument to index about 49,000 files, without crashing, after slightly more than 5 hours.

However, we have been unable to run even this partial document library with iDocument without it eventually freezing our system. Even when iDocument is idle, it overloads our usually very fast computer's capacity and badly slows any other applications. When it is indexing, it usually crashes our system. The only good thing about this experience is that even after numerous failures, iDocument has not caused us to lose any data.

Our limited success in attempting to use this application at all demonstrated that it is reasonably fast and thorough in its searches. One can open a file directly from the search results, but it is a slow process. As with any document management system, the two key elements are the quality of the document folders and the precision of the search terms. (To that extent iDocument was helpful in reminding us in search results of documents that we should have deleted years ago.)

The on-line users manual is helpful for the initial installation, but there are almost no on-line FAQ files that deal with troubleshooting.
CrashTastic!
Won't stop crashing. Needed a replacement after Doo shut down. This isn't it.
Information
Seller

MOKA Code

Size

10.7 MB

Category

Compatibility

OS X 10.7 or later, 64-bit processor

Languages

English, German, Simplified Chinese

Age Rating

4+

Copyright

Copyright © 2010-2014 MokaCode Software Inc.

Price

$49.99
Supports
Family Sharing

With Family Sharing set up, up to six family members can use this app.