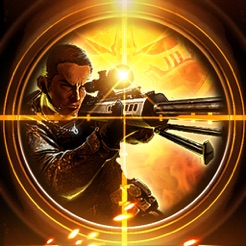 iSniper 3D
17+
Free
Offers In-App Purchases
Description
*NOW FREE for a LIMITED TIME!*

▶▶▶

line up behind the scope and start RACKING up HEADSHOTS in this visually stunning 3D take on MODERN WARFARE...

▶▶▶

"isniper 3d offers a sense of depth and scale so far missing from the sniping specialists already in the app store."
-pocketgamer.co.uk

"isniper 3d is better than konami's silent scope."
-ign.com

"in terms of visuals, isniper 3d hits the mark."
-pocketgamer.co.uk

▶▶▶

you are an elite sniper for GATO (global anti-terrorist organization), and an unsung hero in the war against new terrorism. three months ago, you stopped a biological missile attack with a last minute bullet.

now, a new threat is emerging. HEAVEN, the world's largest and most well connected global terrorism group is preparing for action. retirement is no longer an option. a mysterious phone call convinces you to get back on the job, and join GATO's new special forces unit, GST.

but this is just the beginning...

sometimes, war gets personal.

▶▶▶

• intuitive and exhilarating gameplay
• incredibly detailed full 3D battle fields
• gripping cinematic story line
• super easy tap and tilt controls
• classic hold-your-breath mode
• world's greatest sniper rifles
• upgradeable weapons
• multiple modes: story, arcade and challenge mode
• multiple difficulties: easy, normal, and hard

▶▶▶

youtube: http://bit.ly/bmWx6y
http://twitter.com/TRINITIgames
http://facebook.com/TRINITIgames
• bug fixes

▶▶▶

http://twitter.com/TRINITIgames
http://facebook.com/TRINITIgames
Can be exciting, but the gyro gets out of sync and adds unnecessary problem
The game as it is il almost impossible to play. As the Graphics sound and the timing of everything is exciting, it's very difficult to move and get accurate shots with the Gyro. After about two or three shots your iPhone is in the most awkward position just to maintain shots and keep it moving takes three times as long as it should to hone in on a target, all the while you're losing time and health. They should really include a way to pain without the Gyro this would make it easily for five stars.

Alternatively, they can add a feature to reset the Gyro at a specific standpoint.
Fun with limits
Game is extremely fun for the first week, then you've gone as far as it can go. Graphics, 3-D effects, weapon upgrades etc are amazing. BUT, the story line abruptly ends after just a few chapters leaving you cold just as you begin to truly enjoy this very fun game. I've had this game for over 1 & 1/2 years. They have not added a new chapter or anything. Unless you enjoy playing the same tired levels over and over don't bother to get involved. It's jus a huge letdown once you realize nothing new is coming. Did the creators of this game expire too? One will never know as submitting requests for more levels are eternally ignored. I would not pay a nickel for this one guys. So much promise...so little satisfaction.
I'm happy with it.
All I can suggest to those who struggling with the zoom, operate as if you were a sniper as the game suggest. When you site a target tap to zoom the more controlled and calmly you site the the more stable your scope. Try get your headshot lined up before you stabilize with the left button try not to take to long as your shots after will be more wild and uncontrollable. Accelerometer can be trying, however if you are calm this will become easier.
Information
Seller

Triniti Interactive Limited

Size

51.7 MB

Category

Compatibility

Requires iOS 3.0 or later. Compatible with iPhone, iPad, and iPod touch.

Age Rating

17+

Frequent/Intense Realistic Violence

Copyright

© Triniti Interactive Limited

Price

Free

In-App Purchases

Super Sniper Pack

$0.99

Standard Pack

$0.99

Fun Pack

$0.99
Supports
Family Sharing

With Family Sharing set up, up to six family members can use this app.