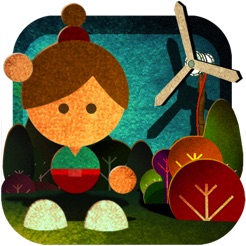 Description
***SALE! 60% off! For a limited time only***
To celebrate the launch of the sequel Lumino City, the game is now 60% off.

*** IGF 2012 Finalist: Excellence in Visual Art ***

An illuminating puzzle adventure.

"Undoubtedly one of the most unique-looking games around."
Eurogamer

"Charming to the extreme."
Games TM

"The best of point and click gaming... amazing visual presentation."
Jay is Games

"A rare treat. Even Lume's main menu is more beautiful than most big-budget shooters."
Bit-Gamer

Small and perfectly formed, Lume is the prequel to Lumino City, also available in the App Store.

With a set built entirely out of paper and cardboard, and sumptuously filmed, Lume is a game with a style unlike any other.

Power to your grandad's house has failed. What's more, he's nowhere to be seen. Immerse yourself in Lume's photoreal world, solve perplexing paper puzzles to help restore the power, and uncover a deeper mystery behind the blackout.

This game forms Part 1 of a larger story. Lumino City continues this story, and if you've enjoyed this introduction please check it out.

PLEASE NOTE: Lume is in English only.
Ratings and Reviews
Buy it for the concept
Whether you like the game really depends on how you think of it. If you're rating it as a point-and-click adventure and don't consider anything else, it's short, and the puzzles are nice, but not too hard (well, except for the padlock. Even after I found out the solution, it didn't make a whole lot of sense to me). To be sure, because the game is so limited, it's easy to be sure that you've seen everything there is to see, so the clue must be somewhere out there. That aspect of the game fosters the puzzling aspect and diminishes the "point at every pixel on the screen" aspect aspect. This is all to the good. And yet it's short, and the shape of the solution becomes clear very early on. Not a whole lot of bang for the buck, considerd in this light.
But then you can also play it because it's a very specific and unusual aesthetic experience. The mix of real backgrounds and computer animations gives a beautiful texture to the game. One might expect the mix to come close to the uncanny valley, but in point of fact, it feels anything but uncanny. It's a lot of fun to just immerse myself in that environment. Just for that reason, it has a lot of replay value, even if the story-line and puzzles are nothing much, especially after the first time through the game. To focus on story and puzzles is, I think, to miss the point of this "game."
I like the look, but it has poor support for large screens
The first time I loaded this, I was put off by the fact that the screen went almost completly black, hiding the Dock and the Menu, and the game itself runs from a tiny box in the middle of the screen. I understand they didn't design it for full Retina screens, but if that's the case, it would've made more sense if the game loaded in a window, instead of completely filling the screen. Without the menu bar or dock, I had to use Command-Q, because I couldn't find a quit option either.

I assumed this was just an issue with my 5K Retina screen, but I have two monitors, and my second monitor is only 1920 x 1200, so I managed to drag that desktop to my other monitor, and it was still a small box there too… but at least I was able to make it run inside a window on that monitor. Perhaps if it started at that resolution, it would've been bigger, but I can't make it do that.
Very Interesting
To give any prospective buyers a more detailed view, please read my short overview/review.

This is a point and click style title with some very tough puzzles added in thoughout the experience. The graphics are pre-rendered CG animation movies that play as you click around areas, much like some of the realtime CG events that took place in games like Final Fantasy VII. The gameplay is fluid and challenging (in a good way!), but please understand that this is not a platformer, or an action title in the traditional sense. This is a title that demands patience.

I enjoy it so far, however I only have one minor item to mention. The game initially starts in fullscreen mode. However, the graphics only fill a small square region in the middle of the screen, leaving a large black border around them. This is mitigated some by pressing "Esc" and returning to a windowed view. I would enjoy being able to stretch the visuals to fit the screen if possible (though I understand they will lose some definition as a result). I would still find the experience much more pleasing in that format.

All in all, a very good title (so far, I have yet to finish it!). However, if you are not into point and click adventure games, and not up for a good brain twisting puzzle, then this might catch you off guard once you get it downloaded.
Information
Seller

State of Play Games Ltd

Size

22.2 MB

Category

Compatibility

OS X 10.6.6 or later

Languages

English, French, German, Italian, Japanese, Korean, Simplified Chinese, Spanish, Traditional Chinese

Age Rating

Rated 4+

Copyright

© State of Play Games Ltd

Price

$1.99
Supports
Family Sharing

With Family Sharing set up, up to six family members can use this app.