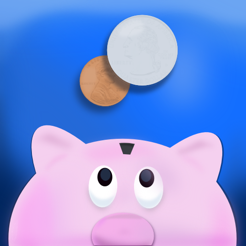 MakeChange - Money counting math game for iPad
4+
Description
Practice counting change and doing addition problems. A great visual learning tool for your iPad. UPDATED AND ON SALE FOR A LIMITED TIME!

Slide coins across a surface of your choice. Stack change below the line until you have the amount shown on the register display and check your answer. If your total isn't correct, you can try the same problem again. The app will also show you the best way to count change so that you use the least number of coins.

A new setting to show the current tally was added. You can turn it on to see how much change you've counted, coin by coin. The tally is updated as each coin slides below the line.

USED IN SCHOOLS

Several educators have contacted me to let me know about pilot programs at their schools that include MakeChange. Feedback from these users has been incorporated into this version. If your school is considering MakeChange and you have questions I'm here to help.

MULTIPLE CURRENCIES

Choose from US, Canadian, and Euro currencies.

Note: friendly user James let me know about the rare usage of the 50-cent Canadian coin. I'll likely remove that coin in the next update, if that's okay.

FEATURES

* Practice counting by sliding coins around with your finger
* Tap a coin to flip it over, learn to recognize both sides
* Coins slide to a stop if you flick them with your finger tip
* Choose from several background images
* Seven difficulty levels, from 10 cents to 5 dollars
* Enable the show tally feature to show the current counted total
* Support for US, Canadian, and Euro currencies
* You can keep trying the same problem until you get it right
* Solution screen shows the exact quantity of each coin you counted
* Shows you the best way to count change if your solution differs
* Skip to a new problem and watch the coins re-arrange
* Realistic sound effects
* Use as an interactive, shareable money worksheet
* The perfect teaching tool for basic math problems
* Includes the new 2010 penny design as well as previous design
* Clean, germ-free coins that you can't swallow!

SUPPORT

This app is fully supported. Contact me from within the app or email me at steven@slidetorock.com.

Thanks for all the great feedback!
- New background image choices
- Removed 50c piece from Canadian currency (thanks for the help!)
- Updated Help section
- Added a currency number format option. The default format is typically fine, but if the numbers aren't formatted as you expect in your region you can adjust this.
Ratings and Reviews
Functional App
With this App you are able to count out the change from the register that matches the amount indicated. It does not ask you to make change from a specified amount but to count up the amount of change to match the amount indicated.
Good but could be better
The strength of this app is that it uses the touch interface brilliantly. It is so much better than mere flash cards. On the negative side, it has no variety so it quickly becomes tedious. Also, there should be a setting where it can give you intermediate feedback while you are solving the steps of the problem. I would LOVE to see activities involving tasks like making change. All in all a good start.
Does not make change
As another reviewer said, this app does not not make change despite its misleading title. If kids could make change using this app, I would have rated it differently. I had to purchase another app for my students to practice making change when making purchases. Other than that, this app does help with counting groups of mixed coins.
Information
Seller

Steven Romej

Size

17.3 MB

Category

Compatibility

Requires iOS 4.2 or later. Compatible with iPad.

Age Rating

4+

Copyright

© 2010 Steven Romej

Price

$1.99
Supports
Family Sharing

With Family Sharing set up, up to six family members can use this app.