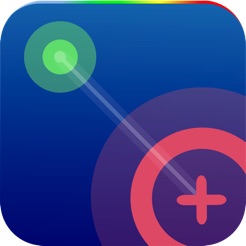 Description
NodeBeat, one of the top iOS music apps, finally comes to the Mac Store!

Make music with NodeBeat, the intuitive and fun visual music app for all ages. Whether you're 5 or 95, NodeBeat will make you sound like a pro. Create your own music in a matter of minutes or listen to NodeBeat generate its own. Easily share your creations with others or save them for later to show your friends. Discover your musical genius with NodeBeat!

★ Audio Features ★

- 20 Musical Scales
- All 12 Musical Keys Signatures
- 7 Octave Range
- Background Keyboard/Piano
- Audio Waveform Adjustment (Sine, Triangle, Sawtooth, Square)
- Creative Sound Sculpting (Echo, Attack, Decay, Release)
- Stereo Panning

★ Rhythm Features ★

- Adjustable Tempo (BPM) & Note Beat

★ General Features ★

- Adjustable Node Physics (gravity, speed, proximity)
- Drum and Octave Generators
- Record, save, and load creations
- Start/Stop Nodes by right-clicking
- Sleep Timer for falling asleep to NodeBeat


-------------------------------

NodeBeat is also available for iPhone, iPod Touch, and iPad (NodeBeat HD).

-------------------------------

★ Reviews ★

"Addictive - Like a Deep House or Techno version of Brian Eno's Bloom and Trope apps. Uptempo ambient for headphones at work. Kids love it, too. One of the best generative music apps I've found." - Top Review

"This is a great app. Experienced musicians and laypeople alike can enjoy their music within seconds." - AppAdvice.com

"Another bold step forward in musical devices, which turns networks of nodes into bumping beats." - Belinda Lanks - Fast Company's Co.Design

"Relaxing and Fun. If you're the sort who enjoys playing with meditative toys like tabletop Zen sand gardens, you'll probably enjoy this relaxing and visually appealing sound app." - Gianna LaPin - 148apps.com

"More than anything, it'll be a calming oasis in the chaos that is a typical day in a modern city. If it all gets too much, as it inevitably does, just plug in your earphones and sculpt some sounds by moving around the nodes on the screen, simply making music and letting the ambient chimes wash over you. Until your boss tells you to stop messing around and get back to work, that is." - Kevin Holmes - thecreatorsproject.com

"If you like generative, reactive or ambient music- Nodebeat HD is a vital addition to your app collection. It is easily on par with the likes of Bloom,Slewpi,Aura flux, Curtis, Reactable and the rest and is super user-friendly...You can get lost in this ambient world for hours if you are just into playing at home, but if you are part of the new wave of live performers that are using iOS devices for live performances then you too should grab this app! You will astound your audience with mesmerizing spaced out grooves like never before!" - Zac Laurent - www.evolutionarymusic.org
- Improved graphics!
- Fix no-sound issue for some computers
- Save audio recordings to preferred location
Ratings and Reviews
Ars. Nova. Strata . . .
,
NodeBeat . . .
Once the Mac OS application has the IAC option and cleaner graphics this amazing application will be a smooth 5 stars. Thank you for creating such a unique and powerful tool for music composition.
Very useful in music production
I've always loved Nodebeat on iOS, and I've used it in a number of recordings. As a production tool, it's easy to set up and generate interesting components for any kind of composition. The app strikes a great balance between options and simplicity. Sonically it's not tremendously versatile, but that's really not the point of this simple synth/sequencer - the versatility lies in what you can do with the kind of sound and styles of rhythm it's designed to produce. The audio output is set at a usable level, but it would be nice to have an integrated control for that as an update.

Overall, I think it's an incredible bargain and I'm thrilled to have it on Mac desktop! Thanks to the developer for supporting this app!
NO CONTROL
I don't know how you could ever "create" anything with any control. It doesn't seem to have diversity in rhythm or many differences in sound. There isn't any way to have an intentention to adding nodes, it just does what it wants and have few differences in the output. It just gets cluttered and more unpredictable.
Information
Seller

Seth Sandler

Size

24.9 MB

Category

Compatibility

OS X 10.6 or later

Age Rating

Rated 4+

Copyright

© AffinityBlue

Price

$1.99
Supports
Family Sharing

With Family Sharing set up, up to six family members can use this app.