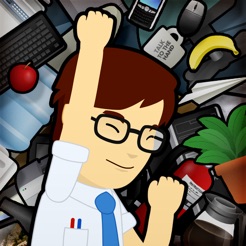 Description
It's chaos! The feared OMGLOL virus has hit your office network - all the computers are infected, and all staff in the building have been brainwashed to hunt down and harass you, the IT guy! As the last free-thinking employee on the payroll, it's up to you to reboot your co-workers using the only method that works - knocking them out with anything you can find! Fight your way through each floor, survive the onslaught of your mindless colleagues and eliminate the virus!

FEATURES:

• 2 game modes - Story and Survival:

In Story mode, fight your way through the 10 floors of your office building and confront the dreaded OMGLOL virus in a hi-tech showdown. In Survival mode, fend off endless waves of your crazed co-workers for as long as you can and set a high score!

• 3 difficulty settings: Help Desk, Sys Admin and Senior Engineer.

• 2D physics environment with multiple object types.

• Flick your finger across the screen to hurl office items at your hostile co-workers. Control the trajectory with the speed and angle of your flick.

• Collect and install 9 unique anti-virus software CDs to help boost your abilities.

• Battle 6 distinct office employee types with their own unique powers.

• Swipe down to duck red-hot eye lasers fired by infected staff (eye lasers?!).

• Tap to punch when your colleagues get too close for comfort!

• Game Center support with online leaderboard for Survival mode.

• Support for multi-tasking and saving game progress.

NOTE: Although Office Chaos should run on older hardware, we recommend a 2nd generation iPod Touch or newer for an optimal experience.
• 4 new anti-virus software powerups!
• 2 new employee types, each with unique special abilities!
• Various tweaks and improvements
Ratings and Reviews
Fun, simple, couple of issues
I love this game, but I would love it more if you all would fix the little issues others have mentioned, namely the duck feature. Half the time he ducks when I flick backwards, the other half he either doesn't respond at all or throws whatever he is holding. It would be nice if you could vary the length of the ducking, as well. Other than that, it's hours of simple, pure entertainment, which is exactly what I'm looking for in a game.
Awesome Game
And as for all you jerks who say the developer is writing these reviews, shut up. It really is a great game, and clearly anybody who writes mean reviews like some I have seen for this app is a negative loser who needs to find better things to do than just to try to make people feel bad about things they worked hard on, like this app. Don't listen to those people because it is an entertaining, fun game and I highly recommend It to anybody who likes any games at all.
Thanks for reading! Love, Miriam 
Great Game
This is a wonderful and entertaining game. It has kept me entertained for hours. I love survivul mode. I beat story mode way to quickly though. The last level with the giant spider is way to easy for a last level. Maybe give it more health an have it fire more lasers. The big red fire balls are really annoying though. Also i hate how if you are using a super power like teleportation u cant use another like regain your health at the same time.
Information
Seller

Ian MacLarty

Size

19.1 MB

Category

Compatibility

Requires iOS 3.1.2 or later. Compatible with iPhone, iPad, and iPod touch.

Age Rating

9+

Infrequent/Mild Cartoon or Fantasy Violence

Copyright

© 2010-2011 Ian MacLarty and Jon Kerney

Price

Free
Supports
Game Center

Challenge friends and check leaderboards and achievements.

Family Sharing

With Family Sharing set up, up to six family members can use this app.