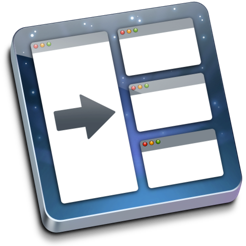 Description
Optimal Layout is the ultimate window manager for the Mac. It gives you all the best tools to manage your application windows, helping make you more productive.

Watch the screencast at http://bit.ly/optimalmac

Optimal Layout's keyboard commands allow you to easily move, resize, and switch between your application windows. It can also re-arrange a whole group of windows to optimally fill your screen.

POWERFUL FEATURES:

- POSITION windows using keyboard shortcuts or with your mouse.

- MOVE + RESIZE windows seamlessly from your keyboard and they smoothly glide across the screen and snap into alignment.

- Instantly LAYOUT a whole group of windows to optimally fill your screen; NO MORE OVERLAPPING WINDOWS.

- Jump windows across the screen to fill half or quarter of the screen space.

- Window SWITCHING that lists all your open app windows with a visual preview, even for windows minimized or in another space.


Works they way you want it to;

Optimal Layout is highly customisable to the way you want to work and just keeps getting better. With regular updates and enhancements Optimal Layout is designed for people who like to keep their hands on the keyboard where they are most productive, and is now a bargain at a discounted price.


Here's a customer sharing his review on how it works;

Fishscale commented on 20 Aug 2010:
"I bought this app while it was in beta and the developer has definitely lived up to his word on making OL the greatest window switcher on OS X. I'm not sure if he even said OL would be the greatest but from a users standpoint it is. Every update gets better and more advanced features come in like spaces support, multi-monitor support, switching layout windows, and finally moving and resizing windows straight from the list of open apps. You can control most everything and the dev has managed to still keeps it super simple.

I have tried all the window arrangement apps and own licenses for a few of them, but OL takes the cake for sure. I know this comment is not really specific and was written quickly but I just want users to know how great this app is and how responsive the developer is to requests. Amazing application, I can't say more. All my window troubles have been solved! Give the app a try, at the price you can't find anything that compares... heck there is no app at any price that compares with the flexibility that OL has. Most impressive is the footprint. I would expect an app this powerful and always running to take up a lot of system resources but it doesn't. I think witch takes up more resources on my MBP than OL does. Simply amazing and worth a try."
Optimal Layout is now FREE, but note that it is not currently being maintained.
Good free app
I use my mac and connect with two external thuderbolt displays. I find this app useful for what I need. I simply click/keyboard to resize each window. I usually have at least 5 windows open while I work and this allows me to easily make them fit the screen size (somewhat). I still have to move around to make it a perfect egde fit.. although I'd say that this app does save a few seconds of your time for free. My coworkers boguth a $1 app that does the same thing Mine was free!
An integral part of my Mac workflow
I've used this app for years. It's one of that handful of utilities that get installed onto any new Mac right up front. I can't imagine Mac life without it. Hold down a simple key combination and windows move; hold down another and they resize. The animation for moving windows and resizing them is smooth and beautiful. You can also use key commands or menubar icons to choose from a set of pre-fab window sizes such as half screen, quarter screen (just keep choosing the quarter command to move windows to different quadrants), and even full screen size withOUT having to actually make the window operate in full-screen mode. There's also a lovely App Switcher replacement which also gives you a grid view of your monitor for resizing windows. May this app live forever! I can't imagine my Mac experience without it.

PS it works great with all MacOS updates through High Sierra. I haven't had any unexpected quitting or bizarre behavior. (I've never had any bizarre behavior from this app. A few versions ago, there was occasional unexpected quitting ... it wasn't enough to wreck the experience of using the app, and it's not an issue for me anymore.)
Instant a part of my workflow
Moving (finally!) from a first gen Mac Pro (2006) to a (newer) 2012 MBP cut my display real estate from three screens to two. After downloading this app, I don't miss that third screen at all! The intuitive shortcuts help me keep secondary windows in view while moving the window in which I'm actively working front and center. I write very few reviews, but I wanted to express my thanks! You've keep me from needing (or, more precisely, thinking I needed) another screen, while keeping me from cursing some of Yosemite's quirks. (Like how maxing a window turns it into a new desktop?! What?! That ain't how I roll!...) There are proably programs out there with more bells and whilstes, but this is the most useful GUI management utility I've EVER bought. I am satisfied.
Information
Seller

Benedict Lowndes

Size

1.2 MB

Category

Compatibility

OS X 10.7 or later, 64-bit processor

Age Rating

4+

Copyright

© 2015 Benedict Lowndes

Price

Free
Supports
Family Sharing

With Family Sharing set up, up to six family members can use this app.