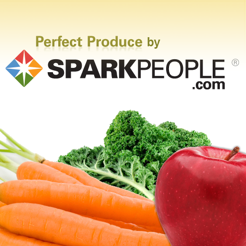 Perfect Produce by SparkPeople
4+
Description
Do you know how to tap a cantaloupe to judge its ripeness, or to look for asparagus with straight stalks and closed tips? There is a secret to determining the ripeness of every fruit and vegetable, and with these secrets, you never have to worry about coming home from the grocery store with produce destined to rot in a day or two. The problem, though, is remembering all the different ways to find the best food to buy when standing in the produce aisle. There are thousands of tasty and nutritious foods to eat, and no one can remember them all. That's where the SparkPeople Perfect Produce app comes in.

We've taken all the tips and techniques you need to pick the right fruits and vegetables and put them into our app.

With our app, you'll get the following features:

Buying and storing tips - Learn what to look for when buying popular fruits and vegetables so you don't waste your hard-earned dollars. But buying is only half the battle. We'll also tell you the best way to store what you buy so it'll last longer, stay fresher and taste better.

Preparation hints - Cooking a vegetable or fruit you haven't tried before? Our app has the information you need to handle your produce like a pro. Bought too much for the time being? We have suggestions on how to best save your bounty for the long haul - freezing, drying, or whatever works best for what you have.

Complete nutrition information - Perfect Produce is a companion app to the #1 healthy-living website in the U.S., SparkPeople.com. We believe knowing what you eat is the first step towards watching what you eat. Every piece of produce in this app features detailed nutritional information based on a 2,000 calorie diet.

Healthy, delicious recipes - So, you've found a piece of produce you've always wanted to try, but you don't know where to start. Have no fear! With this app, you have access to over 450,000 tried and true recipes, categorized by the main fruit or vegetable. By downloading our Perfect Produce app, you get full access to every recipe from SparkRecipes.com, our healthy recipe sister site!

The ability to save your favorites for later - Found a particular piece of produce that you love cooking with? Our app makes it easy to save your favorite foods and recipes, so they're just a flick of a finger away.

So much produce, so many questions. We've got your answers. Download the app today to make healthy meal planning and grocery shopping easier!

Almost Perfect!
I love this App and would absolutely give it 5 stars if there was just one added element. I even believe adding this element would increase your subscriber base. Give us the opportunity to email a recipe to a friend. I'm sure it would motivate many others to download the App! Do this and my next review is 5 stars. This App is awesome!
Nice!
I love this app for the instructions about how to handle and store the produce. It helps me avoid waste by letting me know ahead of time how to store something and how long I can expect to keep it in the kitchen. The recipes are okay. I view them to get an idea how the item is used, but I usually don't make the recipes, opting instead to search the Internet until I find something to try. This app is handy when I stumble on an in-store special on produce I'm not familiar with. I can look it up and decide if I want to try it based on description and how fussy the handling sounds. I'd love to see this app expand into herbs and mushrooms. I can also envision a similar app for cheese, although I understand that such a focus might not be in the healthy Sparkpeople spirit. Thanks!
Wonderful addition from SparkPeople
I just downloaded this app and am already impressed. I love that there is seasonal information as well as recipes. Also, the larger pictures of the produce are nice. What would I add? Maybe a map that shows where the produce is grown in season. Also, I would add some more obscure produce that is used in other cuisines - for example, lychees or pumelo. Also, I would add information on varieties. For example, there are many different types of plums and I always have trouble remembering the characteristics of each type.
All in all, though, a great app with great information.
Information
Seller

SparkPeople, Inc.

Size

3 MB

Category

Compatibility

Requires iOS 4.2 or later. Compatible with iPhone, iPad, and iPod touch.

Age Rating

4+

Copyright

© SparkPeople, Inc.

Price

Free
Supports
Family Sharing

With Family Sharing set up, up to six family members can use this app.