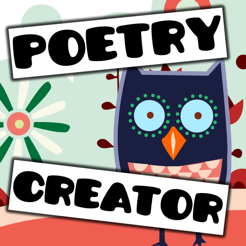 Poetry Creator | Verses - Poetry, Poems & Poets
12+
Free
Offers In-App Purchases
Description
Ever wonder what it would be like to mash-up a Shakespeare poem with a Hip Hop Song? Verses is a new iPhone and iPad app that puts a fresh spin on a cherished classic: refrigerator magnet poetry. We built this app to set your creativity ablaze with Verses's limitless word mixing possibilities that allow you to become a kind of dictionary DJ. After creating a poem out of your own personal mix of dictionaries, you can send your creation to friends via email or publish it in your Facebook photo album! (network connectivity required)

Arranging words into your own poetry is much easier and smoother (and thus more enjoyable) using Verses, as opposed to the original "real life" fridge magnets. But even more enjoyable is the pleasure of sharing your poetic creations with friends. With the click of a button, you can publish your poem to Facebook (assuming you're logged in). Then ALL of your friends can see your creativity, not just the ones who happen to be in standing in front of your fridge (Facebook account and network connectivity required). Plus you can email your poetry directly to your friends, all without ever leaving the app. You can also save your poetry to your device's photo album.

Verses comes with 4 dictionaries, including:

•Old School Words
•New School Words
•'The' Dictionary
•If Ands Or Buts Dictionary

You can also buy premium dictionaries for an additional cost, which can add even more flavor and character to your poems. Premium dictionaries are available as optional in-app purchases and include:

•Hip-Hop Dictionary
•Beatnik Dictionary
•60's Dictionary 1
•60's Dictionary 2
•LOL-tionary
•Sci-Fi Dictionary
•Shakespeare Dictionary
•19th & 20th Century Dictionary

We've also added Achievements that will track your progress and keep a tally of your own personal "Poetry Score."
•Add your own custom words!
•6 New Dictionaries!
What a philosophical lark (but needs a saved folder)
How much fun you can have with this "game" definitely depends on how much you are willing to spend on extra mixology dictionaries. If you have them all, and I highly suggest that if you are really going to play around with this, you just buy them all ($6 for both sets, I believe), you can really write yourself some interesting poems. You get to mix how much of each dictionary you want in your word drawer at any time. The addition of points toward awards is okay, but I'm not all that concerned with it myself.

I LOVE the look of this magnet poetry take-off. The 70s-girly-scrapbooking/collage art that accompanies the app is certainly fun. And I really appreciate that although I have had this app on my iPad and iPhone (you only have to buy the dictionaries once by the way), this is the first time (in almost a year) that I have been asked to rate this app. I hate apps that ask after about 20 minutes into using the app.

All in all, if you're a poet, sort-of poet, or just like making word mash, this is the poetry maker I choose to play with and I have played with almost all of the magnet-type poetry apps. If you're just seriously trying to write poetry, a notebook is probably your best bet. This is a really neat way to create some fun and sometimes some spontaneously serious poetry (haikus are a good way to go as well) and then share it via Facebook or email or however. Or just have fun and keep it to yourself.
I see potential
I think this game could be much better and more popular. It needs to be geared more towards artistic expression and the discovery of truth rather than you can you get money. I mean the entire app is supposed to be centered around poetry but I'm so limited unless I want to spend a lot of money. Also, make a more modern fun design that everyone will love and make more room for bigger poems, and more word options. But I like how you can play with different ideas. I'd rather have adds and plenty of poetry than no ads but very limited tools if that's what you choose. I'd love it if you'd help me make art. Not help me help you make $$$. This is a great idea and could get big again but not like this. You're limiting yourself.
Intrigued, yet...
The default dictionary page resolution does not resolve on this pod, It shows the slider for "the", "old school words" and half of each of the other two options, somehow using this app does not gyrate the page sideways or fit to screen. Probably the same issue upon saving/ sharing. Need to close and restart the app in order to go "back" to playing. Was looking for the magical rabbit hole to take me to the creators/trouble shooters email, but unfortunately the review is my only hope to get a couple of issues resolved. Really having a blast with it in spite of the inconveniences. As far as the ditty bags of words is concerned I would have to say that with poetry less is more( in direct contradiction to my "review" cheers
Information
Seller

Tiny Mobile Inc.

Size

10 MB

Category

Compatibility

Requires iOS 4.0 or later. Compatible with iPhone, iPad, and iPod touch.

Age Rating

12+

Infrequent/Mild Alcohol, Tobacco, or Drug Use or References

Infrequent/Mild Mature/Suggestive Themes

Infrequent/Mild Profanity or Crude Humor

Infrequent/Mild Sexual Content and Nudity

Infrequent/Mild Horror/Fear Themes

Copyright

©2010 & 2011 Tiny Mobile

Price

Free

In-App Purchases

Beatnik Dictionary

$1.99

Hip Hop Dictionary

$0.99

Words From the 60's

$0.99
Supports
Family Sharing

With Family Sharing set up, up to six family members can use this app.